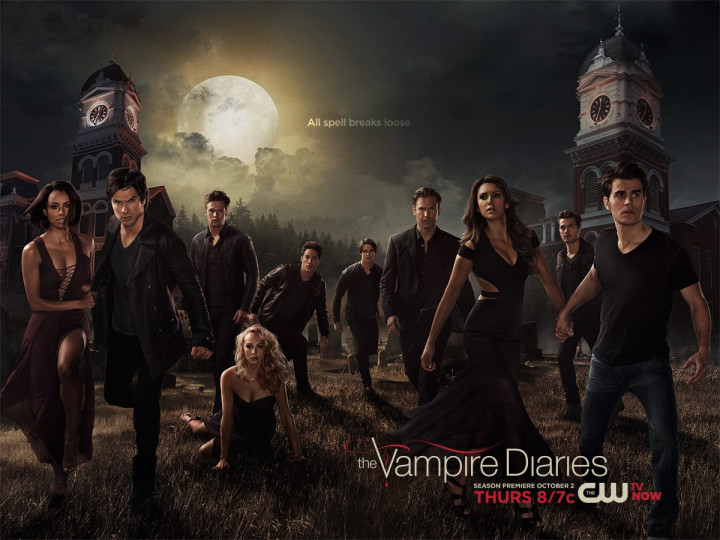 The Vampire Diaries Season 6 returns with its all new episode today, Thursday, 30th October at 8:00 pm EST on The CW.
The 5th episode is titled, The World Has Turned And Left Me Here, where Bonnie and Damon will try to get back to the present Mystic Falls with the help of Kai.
Click here to watch the episode online.
With Homecoming around the corner, Elena (Nina Dobrev) invites Liam (guest star Marco James) to attend a party at the corn maze with her. Instead of attending the homecoming festivities, Caroline (Candice Accola) is preoccupied after Stefan (Paul Wesley) shows up unexpectedly and needs her help cleaning up a mess created by Enzo (Michael Malarkey). Heeding Elena's advice to be more social, Alaric (Matt Davis) reluctantly attends the party, but a devastating accident quickly leaves him and Jo (guest star Jodi Lyn O'Keefe) rushing to save lives. Elsewhere, Tyler (Michael Trevino) finds himself in a dangerous position when his werewolf curse is put to the test, and an emotionally embattled Stefan comes clean to Caroline about his intent to move on from Mystic Falls. Lastly, Damon (Ian Somerhalder) and Bonnie (Kat Graham) make an important discovery that affects their quest to get back home.
The previous episode revealed Kai to be a witch and a serial killer, who murdered many of his "siblings" in the Gemini coven and was banished to the 'Other Side' as a punishment. But he also shared the secret to get out of the time warp they are struck in, and threatened to kill them both unless they agree to take him back with them.
A sneak-peek released by CW shows a happy Damon planning to spend the day with his girlfriend Elena, oblivious of the fact that she has erased all her memories.
Another promo shows a rather bloody homecoming back in the present Mystic Falls, and something goes wrong with the eldest Salvatore brother and Bonnie's plan to get back to the present Mystic Falls.
Will Damon and Elena finally reunite in the episode?
Let us know your opinions in the comments section.
Watch the promos here: