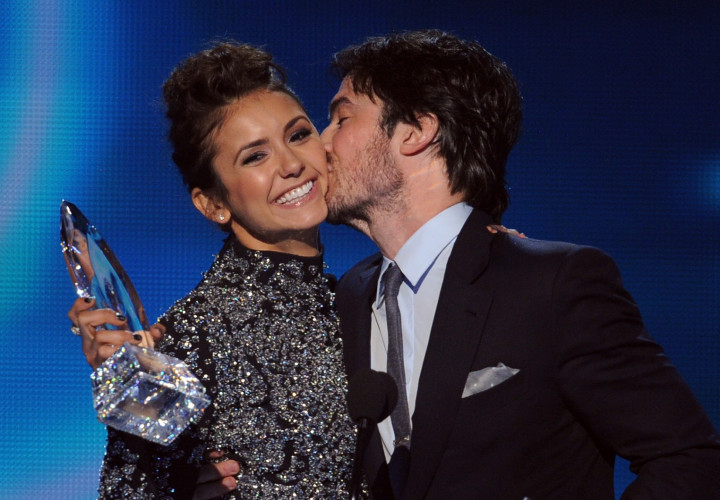 Ian Somerhalder and Nina Dobrev have finally come to a truce on The Vampire Diaries sets.
Dobrev and Somerhalder dated for two years while filming the hit CW show, and their split was friendly, until he began dating former Twilight actress Nikki Reed.
Nikki reportedly moved in with the Lost star in Georgia where the Vampire Diaries is filming its current season, and has been causing a lot of trouble on set, which has led to rumours that Nina Dobrev may be quitting the show after Season 6.
New reports claim that the former couple may have come to an understanding and worked something out on The Vampire Diaries but Nikki Reed is not happy with the decision.
Celeb Dirty Laundry reported, "The Vampire Diaries Season 6 haven't been all that great recently, so at most, the CW will renew it for one or two more seasons. But after that? Nina Dobrev will be free to go about her movie career as much as she wants. For now, Nina and Ian have supposedly reached a tentative truce, but I wonder how long that will last if the two are forced into a romantic situation on-screen again"
Hollywood life reported that Somerhalder and Reed's constant public display of affection on The Vampire Diaries set has irked Nina Dobrev.
The producers of the hit CW show are worried that Dobrev might quit the series when her contract expires at the end of Season 6.
"Ian and Nikki's relationship is causing a lot of drama, to the point where the producers have asked Ian not to bring Nikki to set when Nina is there because they are very worried about losing her. They worry that the show would fall apart without her," a source told the website.

As reported earlier, only two of the three leads, Ian Somerhalder, Nina Dobrev and Paul Wesley, have signed up for the seventh season, and this leaves fans wondering if a lead character will be killed off at the end of Season 6.
Executive producer Julie Plec teased the possibility of losing one of the key characters.
"We have a lot of people already set to return, so the show has plenty of opportunity to tell good stories," Plec told E!News.
"And those that don't survive — just the thought of it actually hurts me a little and hurts them; they'll be sitting at home praying, 'Don't let that be me! Don't let that be me!' — we'll see. It's an exciting challenge. Sad, nostalgic, scary, and yet super stimulating."