Victoria Beckham has denied that she is planning to have another baby. Rumours that she and husband David Beckham were considering adding a fifth child to their brood went into overdrive when the star told chat show host Jonathan Ross in 2012 that "...it's always a thought."
Four years ago, 41-year-old ex-footballer Beckham told the chat show host: "We might have one more or two more, you never know. We're not thinking about it yet, but if it happens, great. We're enjoying the kids as it is. It's always a thought.
"I mean, we're busy people and we're enjoying the four kids that we've got already and we're lucky, we're lucky to have four healthy children."
Sources close to the star claimed she was preparing for pregnancy after she was seen boosting her spinach-heavy diet with "broccoli and leafy greens rich in folic acid".
However, the former Spice Girl has now denied that she has any plans to add to the family, that already includes sons Brooklyn, 17, Romeo, 13, and Cruz, 11, and four-year-old daughter Harper.
"No! I am done. People have been obsessed with it - she's getting divorced, she's pregnant, she's getting divorced, she's pregnant - ever since I met David," she told Sunday Times Style Magazine in an interview published on Sunday 2 October, 2016.
The British fashion designer said that despite the challenges involved in balancing work and family life, she ensures she spends equal amounts of time with all of her children.
"I can never go to bed early because Brooklyn is always up and that's when I get to see him, and then you've got Harper who is up super early. So I do feel the that I'm being pulled in four different directions with the children. And then I have David and work, too. The truth is, it is hard."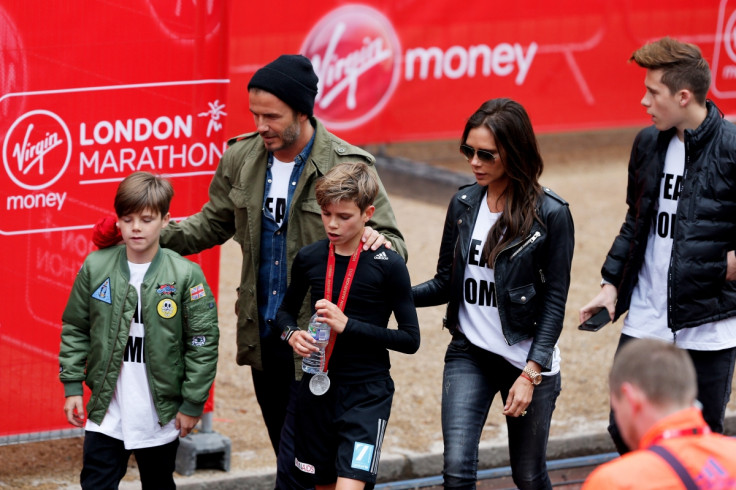 The 41-year-old recently likened her famous family to "a travelling circus." Making an appearance on US chat show Late Night With Seth Meyers, she opened up about life with David and the children.
"We're like a travelling circus our family. We dance, we sing, we play football, do fashion," she said.