The new Doom game will be released globally for PS4, Xbox One and PC on 13 May 2016, Bethesda has announced. Id Software has also revealed a Collector's Edition that comes with a 12-inch statue of the Revenant demon and costs a pricey £99.99.
There's a new trailer too, showing off a ton of new footage from the bloody and brutal campaign, that takes the series back to its fast and furious roots. There's a glimpse of just about every iconic enemy type and both the game's Mars and Hell-based environments.
The trailer's description reads: "As the iconic Doom Marine, you wake to learn that the Union Aerospace Corporation's facility on Mars has been decimated and overrun by hordes of demons. Humanity's survival rests in your hands – and your hands alone. Fight Like Hell.
"In Doom's campaign, there is no taking cover or stopping to regenerate health as you beat back Hell's raging demon hordes. Combine your arsenal of futuristic and iconic guns, upgrades, movement and an advanced melee system to knock down, slash, stomp, crush, and blow apart demons in creative and violent ways."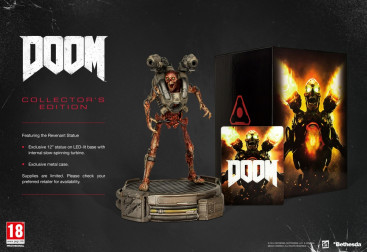 This is the fourth game in id Software's pioneering franchise, and the first since Doom 3 took the series down a more conventional horror root back in 2004. The game was revealed in full at Bethesda's E3 2015 press conference, but it had been teased for some time.
Pre-order bonuses were also detailed. Anyone who pre-orders either the standard or collector's edition will receive the Demon Multiplayer Pack, which contains armour, three skin variations, logo patterns and paint colours for gun customisation.
The pack also includes six "Hack Modules" – one-use consumables used in multiplayer matches.
For all the latest video game news follow us on Twitter @IBTGamesUK.