A hunt worker assaulted a young woman during a confrontation between terriermen and animal rights activists in Yorkshire. A video of the attack has been shared online by the Sheffield Hunt Saboteurs.
Shaun Bohanna, 54, received a conditional caution after admitting assault against the unnamed woman, who is in her twenties. He has also been ordered to pay £200 after her camera was damaged in the attack, which took place on 26 December 2016.
Bohanna appears to get the woman in a headlock and hit her following an argument over the protester's right to demonstrate at a meeting of the York & Ainsty North Hunt. Activists from the Sheffield Hunt Saboteurs and West Yorkshire Hunt Saboteurs both gatecrashed the meet – the woman is believed to be a member of the former.
The footage opens with Bohanna yelling: 'Take that camera, or I'll ram it up your f*****g a***. I'm telling you now, I don't mind you demonstrating, take the cameras away. Are you f*****g deaf?"
The activist behind the camera, who was not the assault victim, replies: "If you stop being threatening, I'll put it down." Another activist then accuses Bohanna of being "very aggressive" and asks him to "calm down". Bohanna says: "I'm not aggressive. I'm not being aggressive."
He then quickly turns and and grabs the young female activist by the neck, gripping her in a tight headlock before appearing to hit her.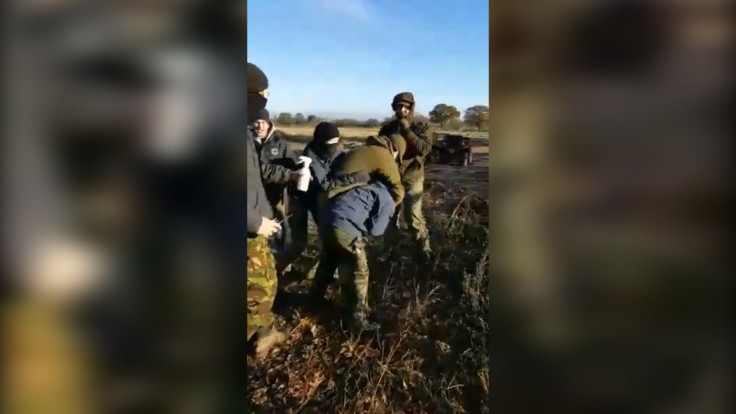 Sheffield Hunt Saboteurs wrote on Facebook: "Hopefully Bohanna and his hunt associates will think twice about attacking someone half their size in future."
The incident took place in North Yorkshire, not far from where huntsman and Conservative councillor Charles Carter was filmed telling a female activist "I'd like to s**g you" on 23 January. Carter has since been suspended by Breckland Council.
A spokesman for North Yorkshire Police said: "A 54-year-old man was interviewed as a voluntary attendee and has been issued with a conditional caution after he admitted assault and criminal damage against a woman in her twenties.
"As part of the caution, he has been ordered to pay £200 for the cost of criminal damage the victim's camera."