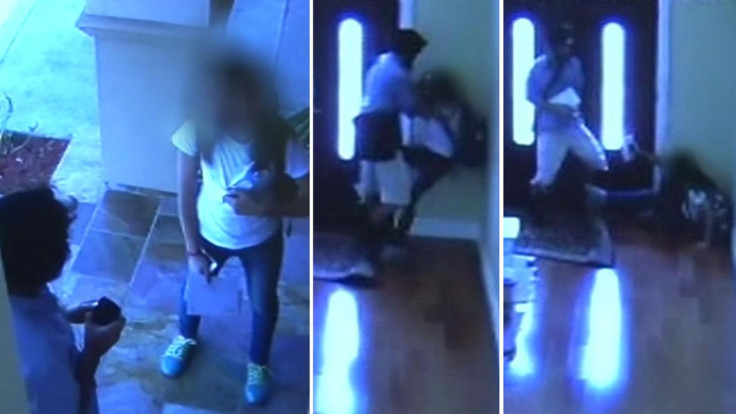 A 13-year-old girl managed to fight off a would-be rapist who pushed into her northern California house behind her as she returned home from school. The dramatic confrontation was captured on home surveillance security cameras aimed at the entrance of the house.
The man can be seen standing nearby as he tells the girl he's lost. She becomes frightened and hurries into the door of her San Jose house, but he rushes in behind her.
The teen struggles with the attacker, who towers over her, just inside the entry hallway until she strikes him in the face and he stops. He waits for long seconds by the door as she backs away, thinking, she said later in an interview, of heavy objects nearby she can throw at him. He then slips out the door.
"The guy starts a conversation with her and when she opens up the door, the suspect pushes her in, tries to sexually assault her as well. The little girl is brave, she fights back, and the guy leaves on foot," San Jose Police Sgt. Enrique Garcia told ABC-7 News. "He's not concerned about being caught, since he's doing this in broad daylight."
After the attack, the girl locked the door and hid in a closet, where she texted her father: "DADDY COME HOME NOW. SOME GUY TRIED TO RAPE ME." Her father immediately called police and raced home.
"I'm really happy I'm safe," the teenager told ABC, "but I'm still really scared. I'm really low on trusting the outside world anymore."
Police believe the man is the same one who attempted to sexually assault a woman in a grocery store restroom last month. The attacker's face was captured on cameras at both sites.
Investigators asked for the public's help in identifying the man. "We need to put a stop to this immediately. We're really concerned that he's going to strike again and we need the public's help," Garcia said.