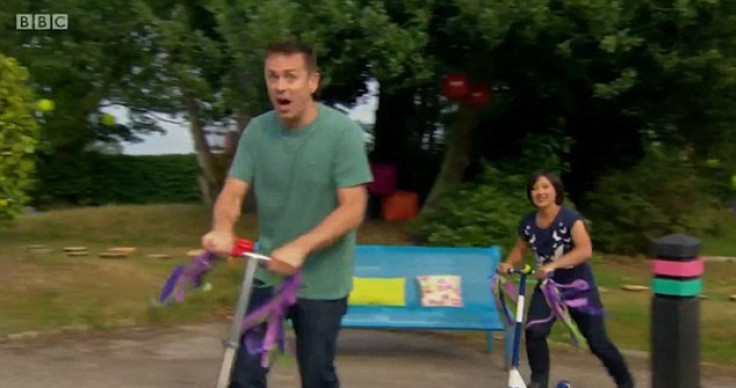 A children's TV presenter has sparked outrage after viewers complained that he 'uttered the C-word during a playful song about kites' on CBeebies. Chris Jarvis, the 46-year-old TV presenter was hosting the TV programme Show Me Show Me at around 10.30am on Wednesday (7 September) when he is alleged to have used the profanity.
Lyndsey Mann, 25, uploaded a video clip of the show to Facebook, and wrote: "'You what CBeebies?!?" according to The Sun.
"I wasn't really taking any notice of what was on the telly, which was on while I was tidying up, but then I just heard that word, so I rewound the show because I couldn't believe it," she explained. "And then every time I replayed it, I just couldn't hear anything but that word."
"At first I thought it was really funny because it was just a shock, but if my little girl who's two starts saying that in public it's going to make me look really bad, so it's upsetting and quite annoying — she wouldn't know any difference," she added.
Lyndsey reported the incident on the CBeebies Facebook hoping for an explanation from the programme makers. "They replied back saying 'it's kite, it's kite', but everyone agrees that it sounds absolutely nothing like that word," she said.
Shocked parents turned to social media to express their horror at hearing what they believed to be an adult expletive on the children's programme. "Can't believe it was on cbeebies," said a Twitter user. "Doesn't sound like kite to me," said another.
"'If Fluttering Kite incident is true, then maybe CBeebies is made for "Grown Ups" — what happened to BBC Values?!" said one angry viewer. "Yeah that's not how I pronounce Kite naughty cbeebies!," added another parent.
Responding to the backlash on the official CBeebies Facebook page a representative for the show insisted it was completely innocent: "It's kite everyone, kite! We make shows for your little ones so it's always going to be kite."
The video has been watched more than 2.5 million times and shared more than 48,000 times by concerned parents and other viewers who found the funny side with one viewer commenting: "It's one of the funniest things I've seen in ages!! I've watched it at least 25 times to try and work out what he really is saying!!??"
The jury is out on what has now been dubbed the infamous "fluttering kite incident" as viewers remain convinced that a swear word can be heard in the video.
Jarvis is a television actor and presenter who has appeared on BBC television since 1992.