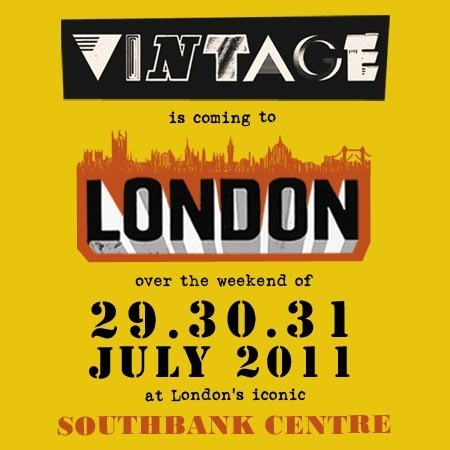 A three-day vintage festival I being held at London's Southbank this weekend to celebrate the music, fashion, film, art , design, and dance from the 1920s to the 1980s that has made Britain the world's creative and cultural.
Organised by Wayne Hemingway, who launched Vintage at Goodwood last year, the event will celebrate seven decades of British culture - with 250 stalls dedicated to fashion, music and art.
The proceedings start today with the British Fashion Council's Future Vintage catwalk show, a showcase of the country's most exciting new designers - including Michael van der Ham, Holly Fulton and Thomas Tait.
The six levels of this great building will be transformed (for the first time) into a multi-venue playground where, over 13 hours per day, pass holders can 'learn the dances', enjoy a makeover take in the live performances, exclusive DJ sets, catwalk shows, food and cocktails and vintage retailers.
Other highlights include Daisy Lowe and her mother Pearl's unveiling of their new Twenties-inspired collection for Peacocks, on Sunday night from 2pm-3pm
British brand Horrockses Fashions will host sessions with expert seamstresses, who will teach you to make your own vintage-inspired dresses, as well as selling their retro designs in a number of market stalls.
On Saturday night, from 6pm-7pm, Jo Wood will be holding The Soundtrack of Our Life at the Royal Festival Hall Clore Ballroom, an hour-long fashion show - featuring items from her extensive wardrobe.
The Soul Casino, Let it Rock, The Torch Club, The Leisure Lounge and The Warehouse are amongst the ten nightclubs contained within Royal Festival Hall.
To gain exclusive access to Royal Festival Hall, simply book a pass for Friday, Saturday or Sunday (£60). If you'd also like to access the stunning 'Vintage Revue' book a Friday, Saturday or Sunday pass + revue show (starting from £75).
Purchase HERE: Tickets