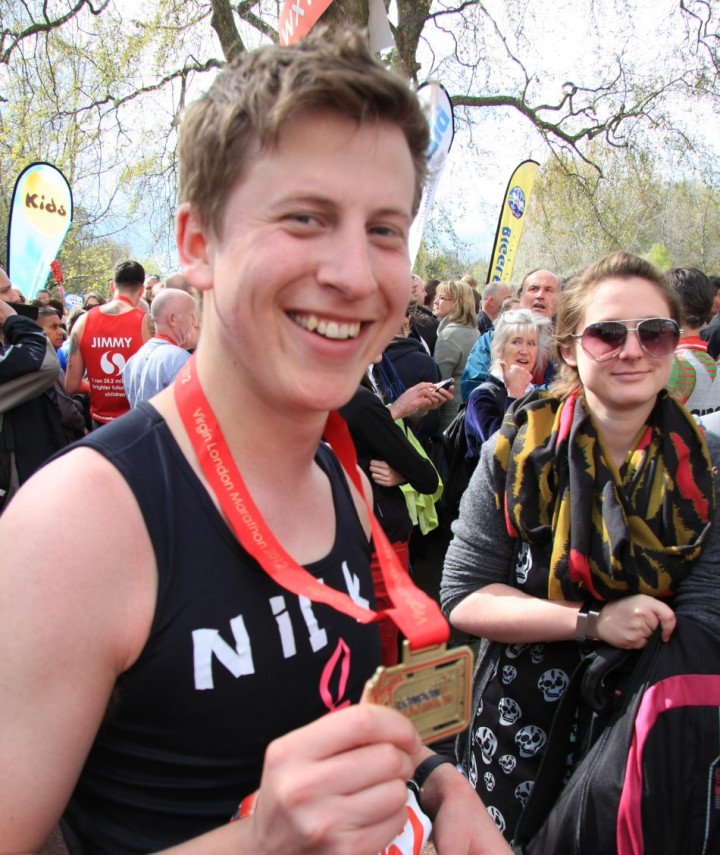 I can happily say that after a year of training, hundreds of blisters and aching joints, I have completed the Virgin London Marathon 2012.
The run was, without a shadow of a doubt, the hardest thing I have ever done, but also one of the most satisfying. There's no experience like it and no greater feeling than crossing the finish line, but you do have to go through 26.2 miles of hell in order to get there.
So I arrived at the marathon start at Greenwich feeling enthusiastic and relaxed. This was more to do with denial than anything else. The trains and streets on the way to the start were packed with runners chomping bananas and chatting about the race and it was easy to get pulled along and not really think about what to expect when the race starts.
When the race does start, accompanied by a huge cheer from everyone taking part, there then follows a strange lull as everyone shuffles towards the start line like commuters at a packed platform. Twenty minutes from the race start and I had yet to reach that line.
Eventually, I crossed it and immediately realised how hard it was to run to a planned time. The course was so packed with people that I could see that my first mile was going to be slow. Then I looked around me and realised that enjoying the experience was what it was all about.
When I spoke to people who had done the race previously, they waxed lyrical about how important the crowd was to the runners and it was not an understatement. The crowds were amazing, whether it was groups of smiling children, hands outstretched for a high-five, steel bands, drunken crowds outside pubs or one fantastic Catholic priest dousing every passing runner with holy water, they kept everyone smiling.
On crossing the first mile marker, there was a big cheer and lots of mutual back-slapping, tempered somewhat by the realisation that we would have to do that 25 more times before we could stop moving. It was a sobering thought.
As the miles passed, runners started to fall prey to the biggest obstacle of the day, the heat. For the crowds the winter sunshine came as a pleasant relief from the cold winds, but for the runners, it might as well have been the peak of summer. The heat was oppressive and people started dropping like flies.
It just before I reached the halfway mark, just before crossing Tower Bridge, that I got the best boost any runner can get during the race - my own group of supporters. When you are struggling through a tough patch, to see your family and loved ones is an amazing lift.
A few waves and a smile and I felt great. Later on in the race I saw a pattern emerge of runners picking up the pace when they saw their families, tipping them a wave, turning a corner, and then grinding to a halt where they knew they couldn't be seen. It was tempting.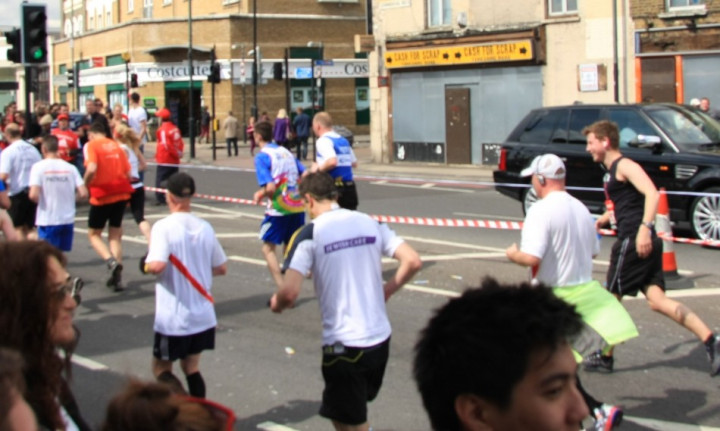 However, I realised at around 18 miles, when the numbers of people walking increased massively, that stopping for a walk would have spelled the end of my marathon. My knees were burning, my ankles had the structural integrity of wet tissue, and pains in my hips and back gave me an unnerving glimpse of how I will be in my eighties. But I just knew that if I stopped, or slowed down too much, it would all grind to a halt.
Then things got worse. My energy levels plummeted and I realised I was running sideways as much as forward. It was mile 21 and this, I can only assume, was what it feels like to hit the wall. It was not an experience I would care to repeat. It was my lowest ebb. I was stumbling so much all I needed to complete the picture was a can of Special Brew in my right hand and a doner kebab in the left.
From then on it became a case of just putting one foot in front of the other and counting down the miles. To say the crowd in the last few miles was fantastic is one hell of an understatement. How they managed to maintain that level of hysteria for such a long period of time I will never know, but I can speak for all the runners in saying it was greatly appreciated.
During the last miles, the camaraderie between runners was wonderful. If someone walked, you gave them a reassuring word or a pat on the back. Near the end of the race, people were practically carrying each other. It was a fantastic shared exerience, with everyone working literally towards the same goal and getting there together.
The last two miles were simultaneously horrific and brilliant. I was in unbelievable pain, but I knew I could make it to the end. After 24 miles, you know you can make it, even though it did feel like weeks before that final stretch opened up and the finish line was in sight.
It's hard to describe the emotions when you see the line. Apart from the initial moment of "oh God that's miles away", there's a surreal atmosphere. I couldn't remember anything else apart from running, so the idea of actually reaching the finish was overwhelming. I even managed a "sprint finish" that would probably have looked like a walk filmed with slow motion cameras. Final time: 4 hrs, 26 mins.
I 'm not surprised the crowds are blocked from the other side of the finish line, as it was like a battlefield. Runners were collapsing, crying, vomiting and I even saw one man manage to do all three simultaneously. You are coaxed through processing by typically upbeat marshalls (thanks have to go to the big fellow who gave me a hug - I really needed that) like confused livestock at a cattle market. Before I knew it my timing tag had been removed, I had my medal, picture taken and goodie bag and I was off to see my family for a glass of champagne that had a similar effect to being hit with a bat.
The London Marathon was an incredible experience, one that I would recommend to anyone. The challenge can not be understated, but neither can the sense of achievement at the finish.
I also had the happy news that I hit my fundraising target of £1,800 for Amnesty International on race day. I would like to take this opportunity to thank everyone who supported and sponsored me. We can all do the race together next year!...Maybe.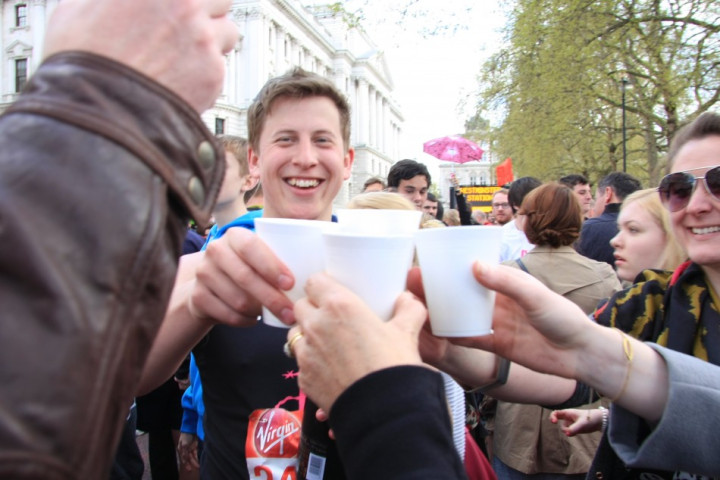 London Marathon Man 8: Tips For Spectators on Race Day
London Marathon Man 7: Last Big Run With Hi-Tec V-Lite Infinity
London Marathon Man 6: No Escape From the Nike+ Sportsband
London Marathon Man 5: K-Swiss Blade Max Beats The Wombles
London Marathon Man 4: Learning to Run With Nike Lunar Eclipse
London Marathon Man 3: Harsh Lessons of the Hardest Run of My Life
London Marathon Man 2: Out of the Comfort Zone