VW scandal: Chief Martin Winterkorn refuses to step down and faces executive board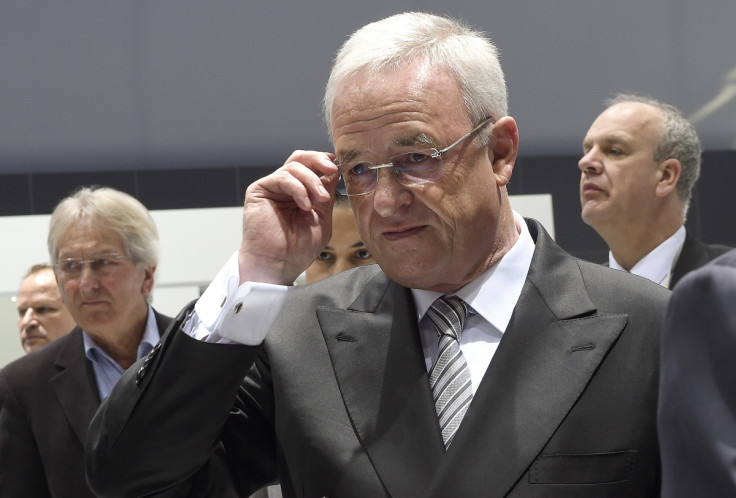 Volkswagen boss Martin Winterkorn is set to appear in front of the executive committee of the company's supervisory board on Wednesday (23 September), in the midst of an emission scandal. The German chief executive has apologised for the emission testing fraud which has affected 11 million cars but he has refused to step down.
Unnamed sources told German daily Tagesspiegel that Winterkorn is likely to be ousted by the board. The newspaper said that VW manager and Porsche CEO Matthias Müller was named as possible successor.
The pressure on Winterkorn from outside is increasing as well. The news that 11 million cars allegedly drive with falsified software, rather than under half a million as initially claimed, has deepened the scandal.
This is how VW allegedly cheated
All new vehicles must pass emissions tests before going on sale to the public. This involves parking the car on a dynamometer – also known as a rolling road – and running its engine in a series of ways. The contents of exhaust emissions – mostly carbon dioxide and nitrogen oxide (NOx) – are monitored and checked against the legal maximum, which varies by country. In the US, where the emissions fraud was uncovered, the limit is 31mg of nitrogen oxide per km driven. In Europe this is 80mg, making it much easier for car makers to comply.
VW's share price has fallen by almost 35% since the news on 18 September. It has shed €24bn (£17.45bn, $26.74bn) worth in value. The company's management announced it has set aside €6.5bn to cover the settlement, recall and other costs of the scandal.
The US Volkswagen chief, Michael Horn said in a speech: "In my german words, we've totally screwed up. We must fix those cars... prevent this from ever happening again, and we must make things right. With our customers, with the government, the public, our customers, our employees and also very important, our dealers."
"This kind of behaviour, I can tell you out of my heart, is completely inconsistent with our core values," he added. The emission fraud affected the Jetta, Beetle, Audi A3, Golf and Passat models between 2009 and 2015.
Meanwhile, VW is facing several inquiries, including one from the US, a probe by the German government and an internal inquiry to find out where the fraudulent actions first occurred. Fears that the same trick VW got in trouble for was applied by several other car manufacturers caused investors to lose faith and on stock markets worldwide, and the industry saw major losses.
BMW, Peugeot and Renault all tumbled by more than 6%, while in the US, General Motors saw its share price fall by 2% and Ford lost 3%. Nissan fell 2.4% since the news was out on Friday and Toyota's shares were down over 1.5%.
© Copyright IBTimes 2023. All rights reserved.