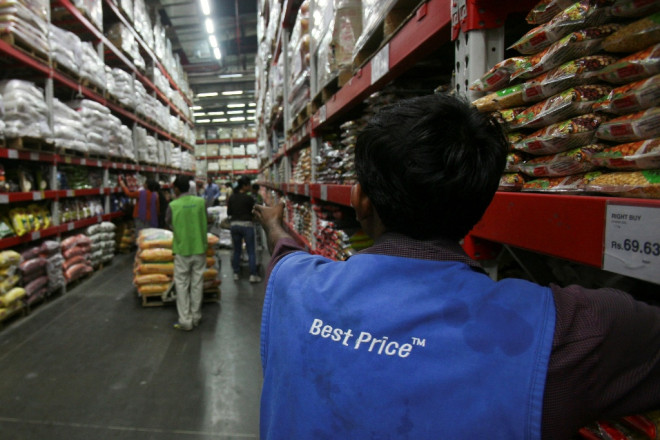 Wal-Mart, the world's largest retailer, paid nearly $234m in debt related to the purchase of a stake in its Indian joint venture with Bharti Enterprises, which the US retailer terminated last October, according to its 2014 annual report.
Wal-mart had earlier paid $100m (£59m, €72m) to take over its Indian partner's 50% stake in Bharti Wal-Mart Pvt Ltd, which operates 20 wholesale stores under the Best Price Modern Wholesale brand.
The transaction resulted in a net loss of about $151m, according to the American firm's consolidated statement of income.
Earlier in the month, Wal-Mart said it remains bullish on the cash-and-carry business in India and that it plans to add 50 Best Price stores over five years. Wal-Mart India will now oversee the US firm's operations in the subcontinent.
Wal-Mart Sues Visa for $5bn
In March, Wal-Mart sued Visa, accusing the credit and debit card network of inflating card swipe fees, which the retail giant claims has hit sales.
Wal-Mart filed a complaint in federal court in Fayetteville, Arkansas, asking for at least $5bn in damages for what it claims are violations of federal antitrust laws that could triple that sum, according to media reports.
Visa and other card networks charge retailers fees, called interchange fees or swipe fees, each time a shopper uses a credit or debit card to pay.
In its lawsuit, Wal-Mart has argued that Visa, together with banks, sought to prevent retailers from protecting themselves against those swipe fees, eventually impacting sales.
India JV Collapses
Wal-Mart and India's Bharti Enterprises wound up their joint venture in India in late 2013 and decided to operate independently in the subcontinent.
As per the terms of an agreement reached by the companies, Wal-Mart acquired Bharti's 50% stake in their joint venture to assume its full ownership.
Relations between the two firms soured 2012 onwards, as Wal-Mart stalled the expansion of the Best Price chain owing to an internal probe into bribery allegations concerning its India operations.
Bharti Enterprises also runs Bharti Airtel, India's top mobile phone carrier.