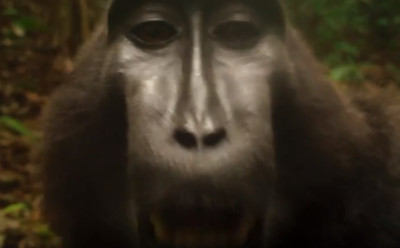 Long tailed Macaque monkey, Chippy is making waves half way around the world. The Wales Ape and Monkey Sanctuary is offering refuge to the domesticated monkey over fears that he faces being culled in his current home in Singapore. Chippy, who lives in the Lower Kent Ridge Park area in Singapore, is believed to be domesticated as he does not show any natural wild behaviour.
The petition has so far gathered 2,334 signatures. It claims that Chippy is alone and that his mother was beaten to death "by persons unknown." It said that the monkey has not been taught the skills necessary to gather food and survive in the wild.
Chippy does not qualify for sanctuary in Southeast Asia as he is considered a common species. As such, Jan Garen from the sanctuary in Wales is offering to home Chippy. The sanctuary already has six other long-tailed Macaques from varied backgrounds including laboratories and the pet trade.
"The Sanctuary has quarantine facilities and we are willing to take Chippy at no cost to the authorities in Singapore. " In fact, a family in Singapore which has been providing food to Chippy daily, has even offered to foot the cost of sending Chippy to Wales. The family, which first highlighted Chippy's case, had reached out to Singapore's National Parks Board (NParks) to find sanctuaries for the monkey.
"But we found out that only the proboscis monkey would be given sanctuary in Southeast Asia. As a last resort we approached a sanctuary in Wales, and they were willing to take Chippy in," Madam Prema told Channel News Asia.
Her family is willing to even pay the full cost of sending Chippy to the UK, which covers export permits, medical checks, crating and freight. That could amount to anywhere between S$5,000 to S$6,000 (£3,719 - £4,463)
Garen continued in the petition: "Alarmingly there is now talk of killing Chippy rather than allowing him to leave the park for a permanent home. He cannot safely remain in the park as many people feel he is a nuisance and a danger to themselves or their pets."
"This is not a case of catching a wild creature and holding him in captivity, but of offering a refuge for a lonely monkey in need, who has been forced to seek human companionship and comfort," Garen said, giving the assurance that Chippy would not be used for breeding purposes.
He stressed that culling was not the issue here but the fact that "one small monkey must be given the opportunity of a safe life, especially when there is no logical reason to prevent this happening".
Sanctuary slams Singapore authorities over silence
Garen also criticised both Louis Ng, the MP for the constituency and Singapore's Agri-Food & Veterinary Authority of Singapore for not replying to his queries on Chippy. "Instead, the discussions about Chippy's future do not include any compassionate option."
The Animal Concerns Research & Education Society or Acres in Singapore, a charity that undertakes the rescue and rehabilitation of animals rescued from the illegal wildlife trade and injured native wild life, told Channel News Asia that it has urged the authorities not to cull Chippy.
Ng, who is also the executive director of Acres said that he is currently waiting for more details from both the AVA and NParks. "Acres and I care deeply about this macaque and all macaques in Singapore. We have been fighting hard to ensure they continue to thrive in Singapore and we will continue to speak up for them."
On its part, the AVA and NParks reminded the public in a statement that they should not feed the monkeys as this alters their natural behaviour. They said it was illegal to feed monkeys, which carries a fine of up to S$50,000 or a jail term of not more than six months or both.