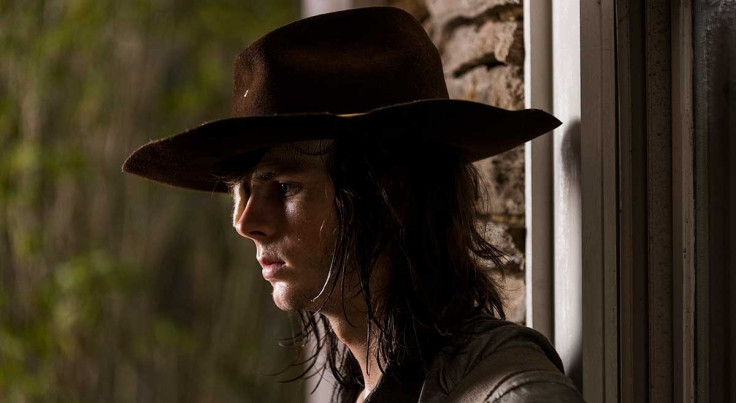 It appears fans are yet to recover from the shocking death in the Walking Dead season 8 mid-season finale. By the end of the episode, Rick Grimes' son Carl reveals he was bitten by a zombie during one of his fights in the woods.
This made everyone assume he is dead and soon after the episode, actor Chandler Riggs, the show's executive producer Scott Gimple and other cast members, including Andrew Lincoln confirmed that Rick's son actually gets infected. And in the post-apocalyptic world, a zombie bite means worse than death.
The Whisperers:
But not many fans are buying the shocking twist and are, in fact, arguing this may be another of Gimple's big lie to revive fans' dying interest in the zombie thriller. Popular fan theories assume that the bite on Carl is a sign that the Whisperers are arriving and the bite he received is that of a human acting as a walker.
The Whisperers are a group of survivors who found an awful way to survive the zombie outbreak. They de-skin the walkers and wear those to prevent themselves from being eaten. Since the second episode of TWD season 8, the show has been teasing their arrival. In the second episode of the current season, Carol encounters a zombie with a good portion of its skin cut off.
Glenn's fake death:
Some are comparing the current death track with that of Glenn's in season 6. There was a huge outrage after Steven Yeun's character was shown falling on a herd of zombies. In the gut-wrenching scene, Glenn was seen crying in pain as the zombies ripped his body apart. Soon after his death, Robert Kirkman warned fans that anyone can die or become a walking corpse at any moment in the show.
"If you go too long a period with characters surviving and being safe, you lose that element of 'Oh my god, these characters could go at any moment'," Kirkman told Inside the Actors Studio then.
However, to everyone's surprise, Glenn survives as he manages to get under the dumpster. In the graphic novel, he died after being battered by Negan and the same took place during the premiere episode of season 7.
And the book also has a longer story life for Carl with many assuming he will be the next leader like his father Rick. Hence many assume that Riggs' character will indeed be safe in the upcoming episodes.
"If Glenn can fake a death numerous times I think Carl can too," one fan wrote on Twitter. "Considering the source material, I have a hard time believing Gimple when he says Carl's death serves some greater purpose of the shows overall narrative. After the Glenn Dumpster fake out, he was on Talking Dead & I got the impression he really enjoys jerking around the fans," added another.
"Walking Dead conspiracy theory - Spoilers - Carl was bitten by a Whisperer. His death is a fake out. That's why @chandlerriggs wasn't on Talking Dead, and why @ScottMGimple was being cagey," said a third one.