The Walking Dead villain Negan has a war coming his way. Actor Lennie James hints that the remaining episodes of season seven could feature an epic face-off between the baseball bat-swinging maniac and do-gooder Morgan.
In the midseason finale of the AMC zombie series, viewers saw Morgan and his sidekick Carol being informed that Rick, Daryl and co. need their help to defeat Negan and his Saviours. The prospect of going to battle is not an easy feat for Morgan, who often tries to find the good in people even if they pose a threat to his own group.
Detailing the predicament now in Morgan's head, James told IBTimes UK: "The dilemma that the upcoming confrontation with the Saviours and Negan is going to cause Morgan, both in his relationship with Carol and King Ezekiel, is going to be massive and a defining moment for [him]. But I can't tell you when that's coming or whether it happens in these next eight episodes."
Morgan's belief system has been questioned by his friends – most notably Carol whom he has gone up against on many occasions. James teases that Negan could push the former father-of-one to rethink his faith, explaining: "I think [Negan] is going to challenge it, there's no point in him being there if he's not going to challenge it.
"I think it's by design, if you've got a man going off in a particular direction that Morgan's going in, you're going to have to put Negan in his path at one point just to figure out what comes out at the other end. Again, that's almost certainly going to happen."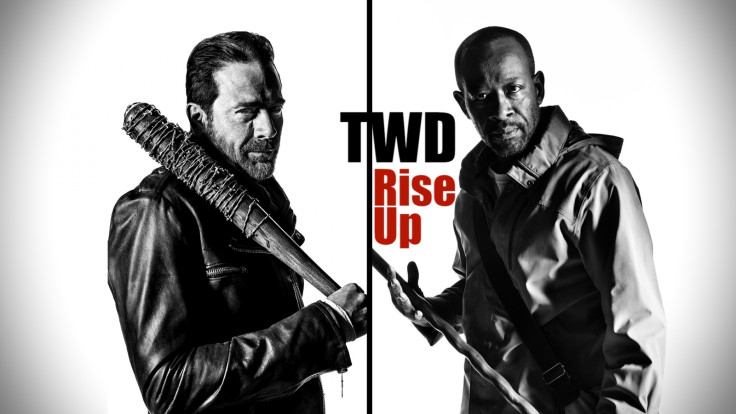 James continued: "Negan and his followers are the ultimate challenge for our group on a number of different levels. Morgan is certainly going to be challenged and certainly going to have to fight on one level or another whether that's to hold onto that belief system in support or defence of the people that he cares about."
One of Morgan's selfless acts includes him holding a Wolves member hostage in the hope of bringing the attacker over to the good side. Could Morgan try the same tactic with Negan? James is hopeful, stating: "I don't know – I'd love to see that scene though. I'd love to be in that scene if someone would write it. I'd love to be in a scene where Morgan is trying to talk the good out of Negan.
"I hope it happens... I genuinely don't know when and if Morgan is confronted with Negan that that's going to be the result of their meeting but I hope it is."
The Walking Dead season 7 continues on Monday 13 February at 9pm on Fox in the UK.