Nowadays he's best known for playing former sheriff and badass survivor of the apocalypse, Rick Grimes, in AMC series The Walking Dead but long before he was killing zombies left, right and centre, Andrew Lincoln was playing much more sensitive types. Like Mark from popular British romcom Love Actually, for example.
But while Mark was sweet, his storyline in the film often came under scrutiny for having somewhat "stalker" tendencies. Something that Lincoln himself has now admitted that he worried about the character while they were filming.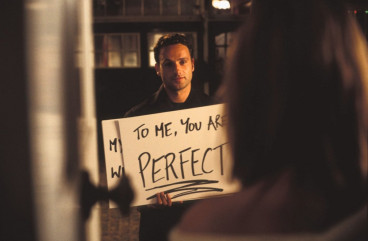 Speaking in an interview with The Wrap, the 42-year-old stated absolutely: "He is a stalker. That was my question to [director] Richard Curtis: 'Do you not think we're sort of borderline stalker territory here?' And [Richard] just said: 'No, no. Not with you playing it, darling. You'll be all right.'"
In the 2003 film, Lincoln's Mark is a cameraman who falls in love with the his best friend (played by Chiwetel Ejiofor) Peter's wife Juliet. Even though he spends most of the picture pining after her and watching the videos he taped of her from her wedding to Peter in secret, towards the end of the film, he can't hide his feelings any more and confesses them to her.
He lets her into the loop regarding his affections by arriving at her martial home and holding up a series of cards that profess his love, all the while getting her to pretend that it is just a bunch of carol singers occupying her attention at the door. Lines from his silent monologue include: "To me, you are perfect, and my wasted heart will love you until you look like this," at which point he shows a picture of a skeleton.
Clearly touched by his outpouring of unrequited love, Juliet plants a brief, innocent kiss on Mark before heading back to see her husband. But even though things didn't necessarily work out for the pair in terms of what Mark might have wanted, Lincoln was pleased that his involvement in the film wasn't what you expected from the character. "I quite like the fact that I'm in one of the most romantic movies playing the only guy who doesn't get the girl," he said.
Lincoln will next be seen in the second half of The Walking Dead's season six, which begins on Sundat 14 February on AMC.
For more entertainment news follow A-List on Twitter @Alistinsider