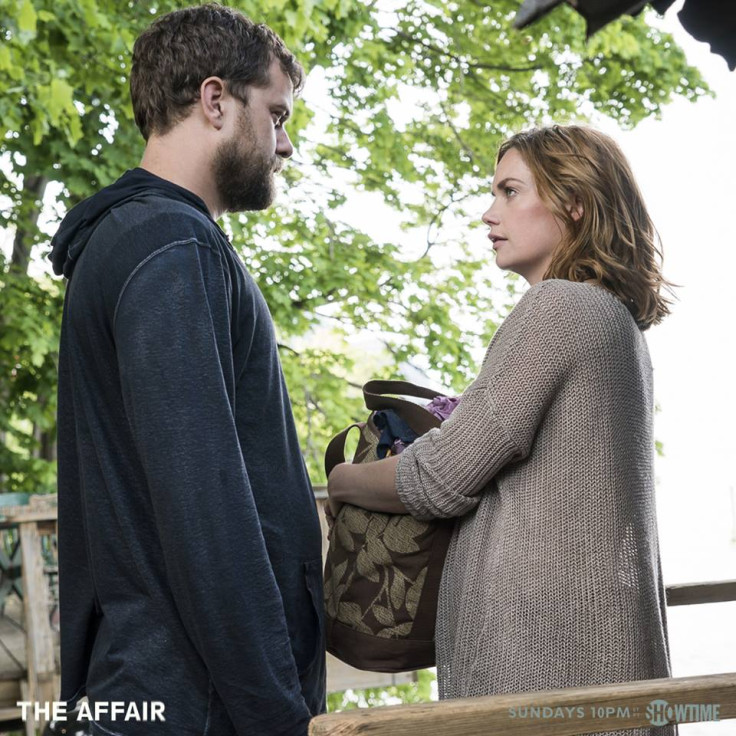 The Affair season 2 premiere showcased Noah and Helen's point of view as the two were seen struggling with their impending divorce and helping their four children come to terms with it. The second episode which airs this Sunday 11 October at 10pm ET/PT on Showtime, will now put forth Alison and Cole's perspectives.
According to the official synopsis, "Alison's summer with Noah is interrupted. Cole's lifestyle causes concern." Click here to watch the premiere episode online on Showtime's website.
Episode 1 confirmed that Noah and Alison were very much in love. Also, the episode dwelled on the sub-plot involving the murder of Scotty. In season 1, fans saw Noah getting arrested, but surprisingly it is Helen who bails him out.
Actor Joshua Jackson, who plays Alison's husband (Cole Lockhart) dished about his character in season 2 in an interview with Collider. He said: "He [Cole] is a mess. At the point at which we meet him, it's all exacerbated by what's happened. "
The Fringe star explained, "But by virtue of now going inside of his interior life, you can now see that this guy who projects outwardly this confidence and strength, and all of those things that we saw last year, is actually much more insecure about his place in the world, who he is, and what he wants to be doing with himself."
The upcoming episode will feature Cole's point of view and according to Jackson,"Right from the very beginning, Sarah said that there was a possibility that we would, maybe one or two times, go into a different perspective, just to give an outside insight into what was going on."
"I wasn't party to these discussions, but I think internally they saw the direction that the show was going and they felt it allowed them to attack the story from a broader base. But when I signed on, I assumed it would always be inside the two perspectives, and that was fine for me," he added.