Watch amazing escape of North Carolina woman seconds before train trashes her car
Authorities say the woman could be charged with hit-and-run.
A video, which shows a woman narrowly escaping death seconds before a train hits her car, has surfaced on the internet.
The video shows a woman in a car trapped on the tracks at Pendleton Road and Martin Luther King Drive in High Point, North Carolina. The clip shows the woman running away in panic as the train rams into the vehicle.
According to reports, the video was recorded on the dashcam on another motorist, Chip Evans. He told the reporters that when he was about to cross the railroad crossing a stop arm went down, and he backed up.
A train passed but the lights continued flashing, alerting drivers that a second train was coming. Within seconds, the other arm went down again, trapping the woman's car on the railway tracks.
Evans told FOX8 news agency that he yelled at the driver, "Get out of the way" and saw the woman coming out. She grabbed her purse and ran away seconds before the train smashed her car.
High Point police Lt Curtis Cheeks said, "Personnel with the railroad advised there was no damage to the train, engine #1140, or the crossing. A K-9 team responded and performed a search of the area to locate the driver but was unsuccessful."
Cheeks also that there are chances that the woman could be charged with hit-and-run once located as there was property damage and she escaped the scene. But Evans disagreed with it and said the irresponsibility was from the side of rail authorities.
"I would stand in court with her and say that girl did nothing wrong. Either her car stalled or she panicked that is the only difference between her and me and it is not her fault," he added.
The Norfolk Southern Representative Susan Terpay sent a statement refuting any malfunction.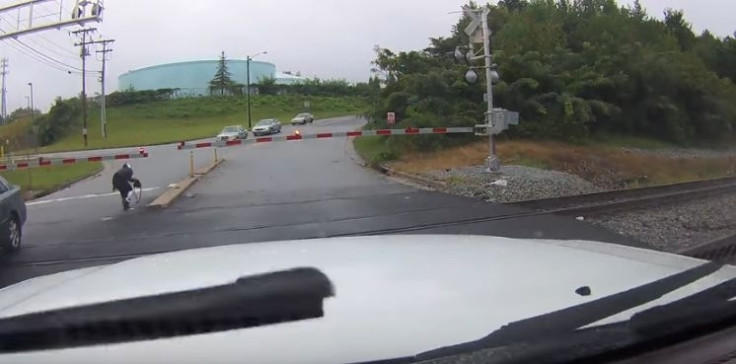 The statement read: "It's extremely important to remind motorists never to proceed through a railroad crossing when the lights are flashing. The lights signal that there is oncoming train traffic, and when there are two sets of railroad tracks, it's important to remember that a second train can be coming from either direction.
"In this case the gates and lights activated when a southbound Amtrak train passed through the crossing. When the train finished going through the crossing, the lights continued flashing -- alerting drivers that a second train was coming. The gates then lowered again as a northbound Norfolk Southern train went through the crossing."
© Copyright IBTimes 2023. All rights reserved.