Watch American Horror Story Roanoke finale live online: Lana Winters interviews Lee in episode 10
American Horror Story season 6 episode 10 airs 16 November on FX.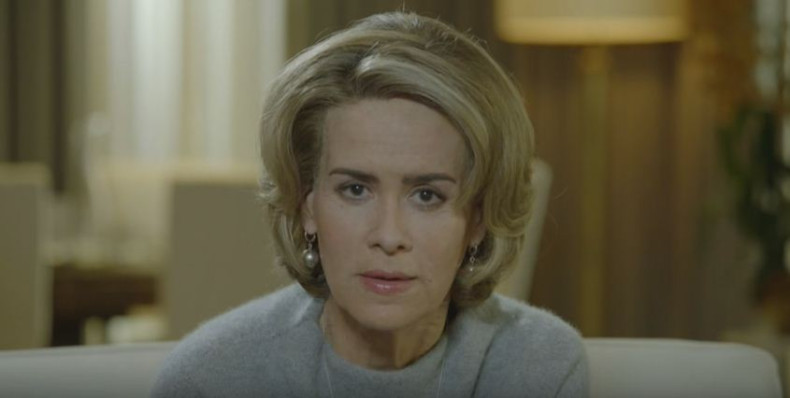 American Horror Story Roanoke airs its season finale episode this Wednesday, 16 November at 10pm EST on FX Network. Lee Harris, who was the sole survivor of the massacre at the haunted farmhouse, will be the highlight of AHS season 6 episode 10.
Click here to watch AHS season 6 via live stream. Click here to watch it online on the FX website in the US. You can also download the FXNOW app here to watch the show.
The final chapter of AHS Roanoke will also feature Lana Winters (played by Sarah Paulson) from American Horror Story: Asylum, getting an exclusive live interview with Lee, about the haunting events of the farmhouse. Lee survived the Blood Moon massacre, but confessed to killing her ex-husband Mason, which will put her through a lot of legal troubles.
A promo shows Lana Winters saying, "She's one of the most provocative and polarising figures of our time," as Lee is seen in flashbacks scenes appearing in a court and then being prepped up for the live TV interview. "Welcome to the Lana Winters special," says the journalist.
In the pre-finale episode, three fans of My Roanoke Nightmare show –Sophie, Milo, and Todd –head out into the woods in search of the Roanoke house, but are murdered by Butchers team. Also, Lee, possessed by the spirit of the Butcher, goes on a rampage, murders Monet and even attempts to kill Audrey.
The next morning, police arrive at the farmhouse to find all the rotting dead bodies of the cast and crew of the show. The police then find Lee alive and help her out, and Audrey, who also survives the haunted house massacre, is gunned down by the police after she tries to shoot Lee, thus making Lee the only survivor of the Roanoke nightmare.