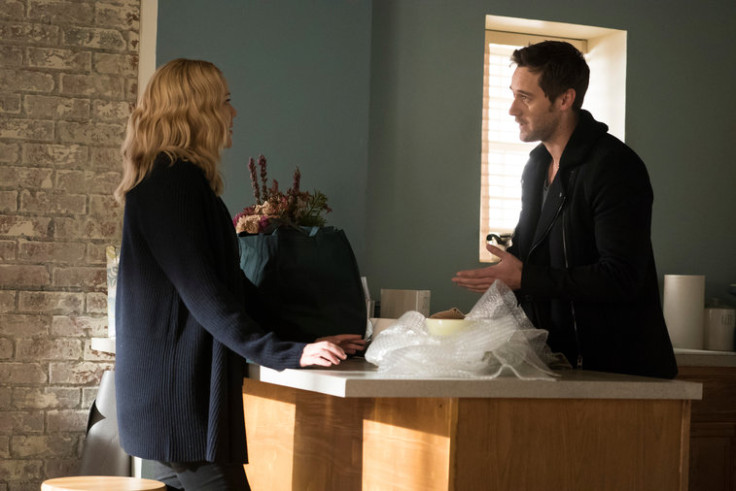 Elizabeth Keen finally makes a decision about her pregnancy and future with a baby in the upcoming chapter of The Blacklist season 3. Episode 12 is titled, The Vhem, which airs this Thursday, 28 January, at 9pm EST on NBC.
Here is the full synopsis for the episode:
After an associate of Red's is murdered by a rare medieval device, he alerts the task force that a vigilante group from the Middle Ages known as "The Holy Vhem" has been resurrected and is lethal. Red teams up with Liz and the task force to stop the assassins before any more of the targets are killed. Meanwhile, upon receiving shocking news, Liz carefully considers her next move.
Click here to watch the episode via live stream. You can also watch it online by clicking here (only in the US). The previous episode ended with the doctor telling Liz that she is pregnant. A new promo voice-over declares, "A bombshell has been dropped, leaving Liz and America with the question: Which man will she choose?"
The promo shows Liz telling Tom Keen that she is pregnant, as Tom tells his ex-wife, "We can get away from him [Reddington]" The video also shows Red telling Liz, " I cannot protect you if you run away."
Executive producer Jon Bokenkamp spoke to Entertainment Weekly about Liz's pregnancy and how it will change the ex-FBI agent's life. Bokenkamp said, "It's going to snap her world into focus incredibly quickly. She's already dealing with a lot — going from a fugitive and losing her badge, and now a child. It gives us a lot of great, dramatic questions."
According to Bokenkamp, Liz will undergo a difficult transformation. "For someone who really doesn't know who her parents are and where she came from, the idea of becoming a parent feels like a great story to tell. She's going to have to confront decisions about Tom, about her job, about her career. She's going to continue to undergo this really difficult transformation," he said.
Raymond Reddington made it clear to Tom that he cannot marry Liz again, but this pregnancy news will complicate things between them. Bokenkamp teased, "One of the fun things about that strange triangle of Liz, Tom and Red is that Tom is like Kryptonite to Red. Because Liz cares about Tom, it renders Red powerless against Tom."
"Red has made quite clear that he has zero interest in having Tom be in her life or his life, or being around at all. He probably would've killed the man had Liz not cared so deeply for him. It's a very complex relationship and this helps both cement them together and also puts a big divide between them," the producer shared.