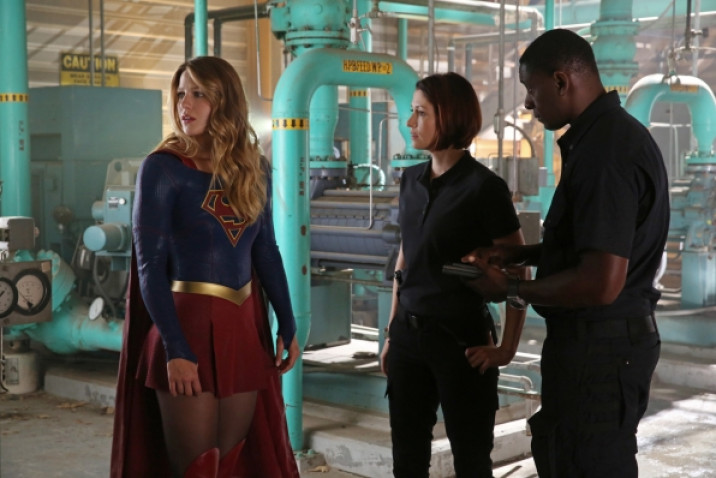 After months of teasing fans with red glowing eyes, Supergirl has finally revealed Hank Henshaw's real identity with a surprising alien twist in the episode that aired on 7 December on CBS.
[Disclaimer: If you have not watched the episode, please do not read further.]
The episode, titled Human For a Day, featured the much awaited confrontation between Alex Danvers (Chyler Leigh) and Hank Henshaw (David Harewood). Hank revealed that he is a shape-shifter from planet Mars and he is called J'onn J'onzz, popularly known in the DC comics as Martian Manhunter.
He showed his real alien identity to Alex and shared that her father Jeremiah Danvers (Dean Cain) died trying to save his life. The alien then took over Hank's identity and enlisted Alex in DEO to protect her and keep her safe as he had promised Jeremiah.
Harewood dished on the big Martian Hunter twist in an interview with Entertainment Weekly. He said: "I must say, I was struggling with Hank Henshaw. I didn't particularly enjoy the pilot [episode]. For me, it was a lot of exposition. I just couldn't find an angle that was interesting with Hank Henshaw. He was all, 'I don't like aliens, I don't like Kara.' It was all a bit too one-dimensional to me. So I was delighted that they gave me this guy to play. He's just so fantastical and it's such a wonderful backstory and history. It just gave me so much more to play."
The actor revealed that the only other person who knows the truth is Superman. "We'll see in upcoming episodes. It's certainly not an easy thing for him to reveal. Only one other person knows the truth, and that's Superman. It's a big thing for him to suddenly have somebody else know his true identity."
We will get to know the alien's backstory in the upcoming episodes as Harewood teased: "He's saying in future episodes that even people that he's loved have tried to kill him once they find out he's an alien. That's one of the things they touch upon in the comics. Even people who get very close to him almost feel betrayed when they find out that he's not who he says he is. He runs the risk of falling foul of people if he does tell the truth."
Apart from Hank's big revelation, Kara was kidnapped by her evil Aunt Astra in the final moments of the episode. They will face off against each other in the fall finale episode.
CBS has officially revealed the synopsis for Supergirl's fall finale episode titled Hostile Takeover airing next Monday, 14 December, at 8pm EST.
Here is the full synopsis for the episode: