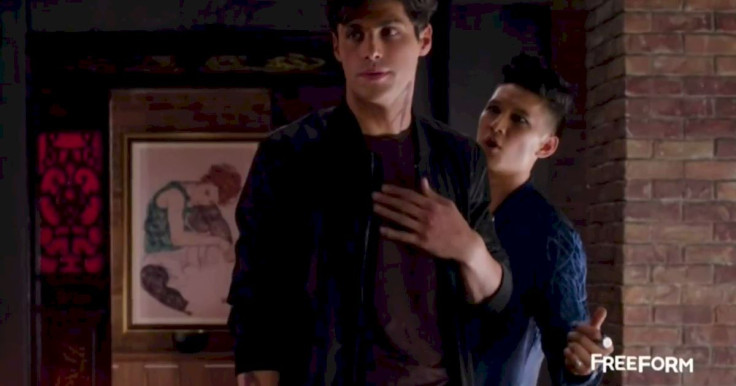 Seems like an emotionally charged ride is in store for fans of Magnus and Alec in the upcoming chapter of Shadowhunters. Episode 12 titled Malec, may after all see Alec and Lydia tie the knot.
But the latest sneak peak suggests that there could still be hope for Magnus and Alec, even as Lydia will set to say I do to the latter. Sparks were seen between Malec since they met, but to save the Lightwood family's lost respect, Alec decided to sacrifice his wish and identity of being gay.
"Emotions are never black and white, they're more like symptoms," the warlock tells Alec in an attempt to stop his wedding. "You lose your breath every time they enter a room, your heart beats faster when they walk by, your skin tingles when they stand close enough to feel your breath."
Click here to watch the show live online on Freeform (only in the US).
Mentioned below is the complete synopsis of episode 12:
The Institute is in full swing as everyone is preparing for the wedding of Alec and Lydia. Lydia is getting final touches made on her wedding dress, the wedding decorations are set and Isabelle is trying to figure out a way to throw a traditional, mundane bachelor party for her brother – whether he likes it or not. During what should be a time of great celebration for many is far from it as they examine their relationships. Alec is struggling on two sides – his wedding is one of the biggest days in his life and his parabatai should be at his side, yet he and Jace are still at odds. Alec also continues to struggle with his feelings for Magnus, especially when Magnus won't give up on Alec. And as the Institute is buzzing with romance, Clary is desperate to work things out with Jace, but he is keeping her at arm's length.
Going by the synopsis, it seems like fans could expect a massive confession from Alec, just before he professes his love for Magnus. Nonetheless, elsewhere on the show, Jace and Clary will be seen reeling from the explosive revelations by Valentine. In the previous episode, the rouge shadowhunter told the couple that they were siblings, although Clary did not believe it.
To know more about the fate of the lead characters, watch Shadowhunters episode 12 on 29 March at 9pm EST on Freeform.