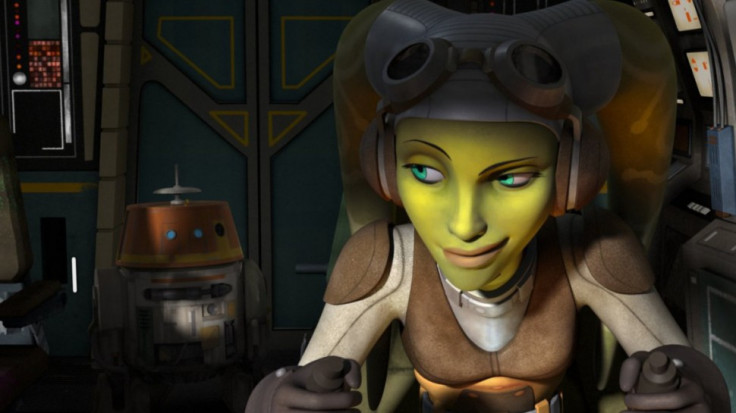 Hera Syndulla is a crucial part of the Rebels team, and fans will finally learn more about her past and how she became a pilot in the upcoming chapter of Star Wars Rebels season 2. Episode 5 is titled, Wings Of The Master, which will air this Wednesday, 11 November at 9.30pm ET/PT on Disney XD.
The official synopsis reads as follows:
Hera goes on a dangerous mission to acquire a new ship, the B-Wing, to help break a blockade and turn the tide in a crucial battle against the Empire.
Click here to watch the episode via live stream. You can also watch the episode online on the Disney website.
The latest promo of Wings Of The Master, shows Hera along with Quarrie -- an expert engineer -- discussing what inspired the Ghost captain to become a pilot. Hera is seen repairing a ship as she tells Quarrie, "You didn't have to drag us all the way here", and adds that he could have just transmitted the parts.
To which the engineer replies, "Why would I handover my ship to just any pilot? Would any pilot risk their life to come to the death trap?"
Hera then explains, "I was a little girl when the Clone Wars came to where I live. My mother hid us below ground, but I would peek out when the republic ships flew over. As I fought to liberate my world, I dreamed of nothing more to be up there with them."
"So you left your family to fight as a combat pilot?"Quarrie questions. Hera then explains her need to fly and says, "I left my family so I could fly. If we want freedom we must make difficult choices. I choose to leave my family, I choose to learn to fly, then i choose to use that ability to help others in need. Its all rooted in something i can't explain.. A need to be up there ( looking at the sky). Because even if there are explosions all around me, things are at their worst, I feel like I am at my best."
As Star Wars Rebels will finally give fans a peek into Hera's past, we may well learn more about Hera and Kanan's relationship in the upcoming episode.