The Walking Dead season 7 is returning with episode 9 on Sunday (12 February) on AMC after eight frustrating episodes featuring Rick Grime's downfall in the post apocalyptic zombie world. The midseason premiere is set to bring new hope for the survivors of the Alexandria Safe Zone.
Where to watch:
Episode 9 titled Rock In The Road will air on AMC at 9pm ET in the US a day earlier than its UK premiere, which is scheduled for Monday 13 February at 9pm on Fox.
You can click here to watch the episode online via live streaming on AMC's official website. You can also watch it by downloading the AMC app for iOS, Apple TV and Android.
"Rise up" is the theme of the remainder of the season as there are multiple issues that need to be addressed.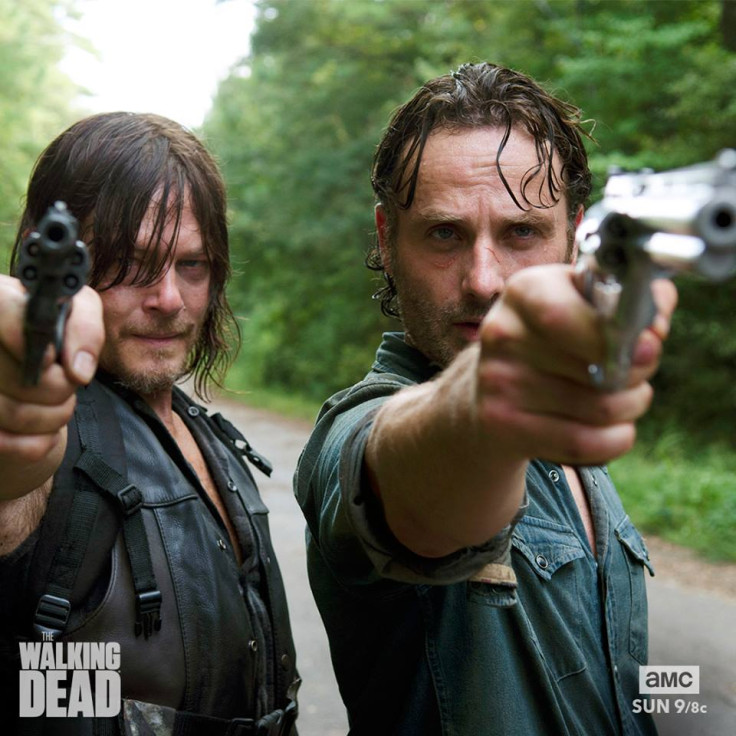 Here are five questions that are sure on the mind of fans.
How will Rick fight his battle against Negan?
The threat that Negan has created has a deep impact on surviving groups. Andrew Lincoln's character was devastated after the brutal death of Glenn and Abraham. But growing insecurities and terror created by the tarnished Saviors has prompted him to change the game
With Daryl and Michonne's support the Alexandrian leader is all charged up to assemble an army and declare war. But let's not forget that he is robbed of all his arms and ammunition. And beating the shadowy group without weapons would be a mere myth.
Show creator Scott Gimple had earlier teased that the all women survivors' gang will be a major help to him, as during Tara's encounter it was revealed that they were rich with supplies.
Will Carol join Rick in the war?
No one can forget the badass attitude of Rick's most trusted friend when it comes to saving her group. And she had proved it when the cannibal group led by Gareth threatened to kill Glenn, Rick, Daryl and others.
Although she has chosen a life of non violence, AMC's new poster teases her fierce comeback in the upcoming episodes.
Will the war yield happy results for Rick?
Yes, says Greg Nicotero but he also cautions not to take Nagan's army lightly. "Rick is looking to build an army," he told AJC.com.
"He's not going to take it from Negan anymore. He's finally going to stand up. He's willing to do what needs to get done and by doing that, he realizes the width and breadth of Negan's reach... It's safe to say that Negan is everywhere. He [Rick] has some wins, some losses. He's not going to give up."
Who is the mysterious stalker?
In episode 8, Rick and his team were constantly stalked by a mysterious person and fans are speculating that it could be a member of the Whisperers, a filthy group that camouflage under zombie skin to kill surviving groups and rob their supplies.
However, it will too soon for them to enter the scene as Negan remains a major concern. It could also be a new society that Rick encounters during his search for allies. In the latest promo, fans saw the Alexandrian leader look amused to see how the zombies were armoured. It seems like the stalkers could be a blessing in disguise for him.
Will there be any major deaths?
The answer is no, but what is Walking Dead without bloodshed. After losing two favourite characters at the start of the season, even fans would need time to settle down and accept the deaths and there may not be any major characters being killed off anytime soon. "In my opinion, there should be less death in the book now, much less, because the careless people, the scared people, the people learning how to live in this world are already dead. This is the cream of the crop, so to speak. So, yes, there can be a conflict like the Whisperer War, and there can be very little death," show creator Robert Kirkman said.