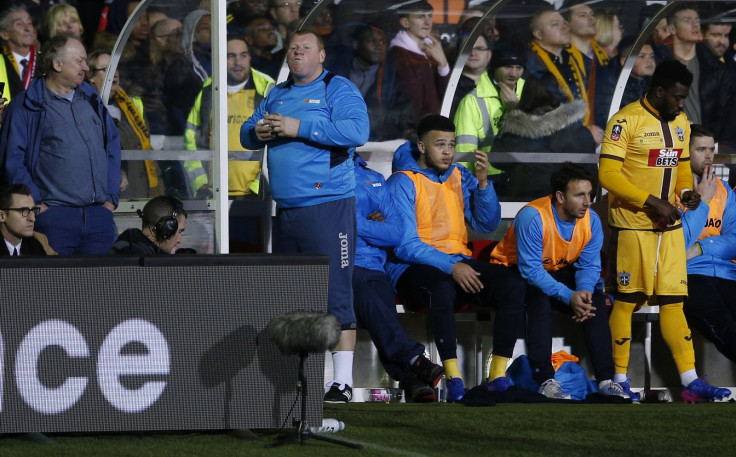 A petition to reinstate former Sutton United goalkeeper Wayne Shaw, who resigned after eating a pie midway through an FA Cup tie on TV prompting two gambling investigations, has reached almost 3,000 signatures.
Reserve goalkeeper Shaw grabbed headlines on Monday (20 February) night when he television cameras filmed him tucking into a pie during Sutton's FA Cup 5th round match against Arsenal.
The next day the FA and the Gambling Commission announced separate investigations as it emerged that a bookmaker had been offering odds of 8-1 on Shaw eating a pie on TV during the game.
Shaw has confirmed that he knew about the betting offer but has insisted that his decision to eat the pie was "just a bit of fun". He resigned in the wake of the probes and was distraught, Sutton manager Paul Doswell told BBC Radio 5 Live.
Former England striker and Match of the Day presenter Gary Lineker captured the public spirit when he tweeted: "Day by day football is losing its heart and its sense of humour." Shaw, who was the reserve goalkeeper, ate the pie only after all of Sutton's substitutes were used, so he could not be brought onto the pitch.
Now an official petition to reinstate Shaw has been registered at change.org. At 11.58am on 22 February it had reached 3,048 signatures. It calls for Sutton United to reverse their decision to sack him but Shaw in fact resigned, and there is no suggestion that he was forced out
It reads: "Sutton United's rotund reserve goalkeeper Wayne Shaw was unjustly sacked for eating a pie in the dugout during his team's FA Cup tie against Arsenal. Justice must prevail and Wayne must be reinstated to the subs' bench." The petition was started by right-wing news site Guido Fawkes.
A statement from the FA on Tuesday said: "We are investigating to establish whether there has been any breach of the FA rules relating to betting".
Their regulations forbid players to "bet, either directly or indirectly, or instruct, permit, cause or enable any person to bet on the result, progress, conduct or any other aspect of, or occurrence in, a football match or competition."