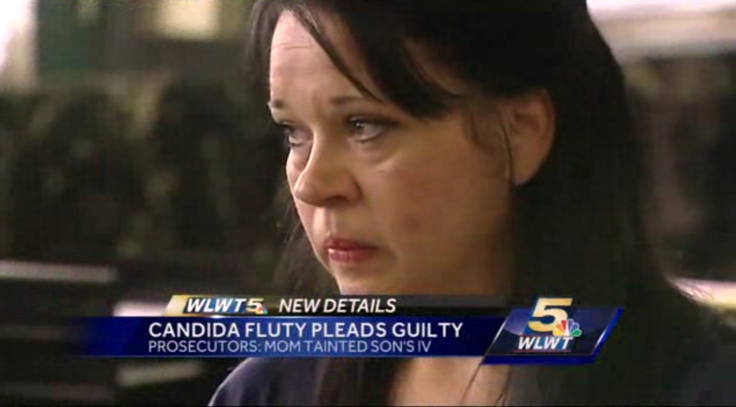 A 35-year-old West Virginia mother who placed faeces in her ill son's IV drip was sentenced to six years in prison on 1 July. Candida Fluty pleaded guilty to child endangerment in a Cincinnati, Ohio courtroom, where she received her sentence.
According to the NY Daily News, Fluty's nine-year-old son was born with Hirschsprung's disease, an illness that affects the bowels, and was being treated at Cincinnati Children's Hospital Medical Center. Authorities said the disease led the child to undergo several surgeries and use a colostomy bag.
Fluty was caught on video placing faecal matter in her son's IV in an attempt to get attention for him. The faecal matter caused the child to develop a fever in January.
In a statement released back in January, Hamilton County Prosecutor Joseph Deters said: "Although rare, we have seen similar cases with similar motivations. I'm just grateful that it was caught before we were confronted with a murder case."
The Kermit, West Virginia mother was charged with two felony counts of felonious assault and two felony counts of endangering children. She faced up to eight years of prison.
According to the Associated Press, Fluty had previously pleaded not guilty. The three additional counts were dismissed as part of the plea deal, the AP reported. Reuters reported prosecutors said the woman may suffer from Munchausen by proxy syndrome. Those who suffer the syndrome make up a medical problem for someone in their care.
The indictment announcement revealed that the child is in the custody of West Virginia Children's Services and is living with an aunt.
"We are satisfied with the plea and the sentence," Chief Assistant Prosecutor Julie Wilson said. "Our concern was for her child, and we hope he is doing well."