Kenya's interior ministry has said that almost all hostages in Nairobi's Westgate shopping mall have been freed by security forces, who have wrested control of all floors of the building from Islamist militants.
Interior minister Joseph Lenku said two terrorists had been killed in a major assault against the al-Shabaab gunmen who raided Nairobi's most upmarket shopping centre.
"Our forces are in full control of the situation," Lenku said. "The process of evacuating hostages has gone on very well and we are certain that very few hostages are still in the building. Almost all the hostages have been evacuated."
The minister revised down the death toll to 62. Earlier reports said 69 people had been killed and at least 170 injured.
The Foreign Office confirmed that four Britons were among the dead.
Lenku said that military forces were hunting down terrorists believed to be still holed up inside the building and that the operation would end soon. "There is no room for escape," Lenku said.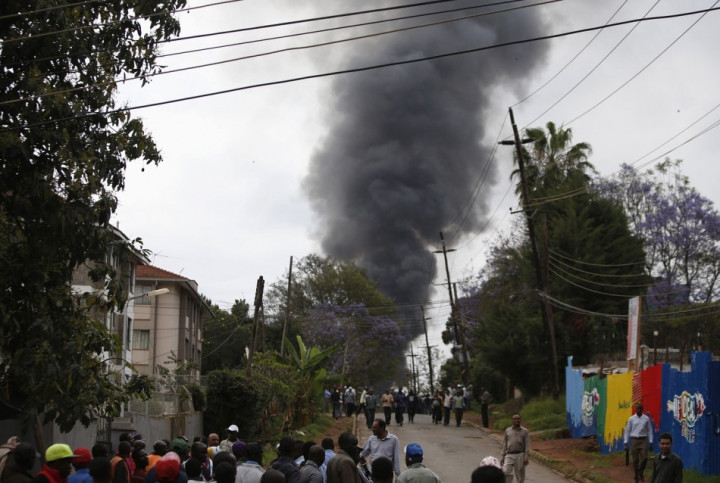 A massive blast followed by smaller detonations and gunfire rocked the Westgate Mall on the third day of the crisis which erupted when gunman armed with grenades and assault rifles smashed their way into the four-storey building.
"It is us who caused the explosion, we are trying to get in through the roof," a security official said of the main blast.
Sky reporter Stuart Ramsay said that he had been told that some of the terrorists had blown themselves up.
Thick plumes of black smoke billowed over the building, which Lenku said had been caused by terrorists setting fire to mattresses in a bedding store.
Al-Shabaab, a Somali Islamist group linked to al-Qaida, claimed responsibility for the attack on Twitter. The attack was believed to have been carried out by a 10 to 20-strong commando unit.
Lenku dismissed claims that British convert Samantha Lewthwaite, aka al-Shabaab terrorist the White Widow, was among the attackers saying all of the terrorists were men, but some were dressed as women.
READ:
Nairobi Westgate Mall Siege: Militants Threaten to Kill More Hostages [VIDEO]
Nairobi Westgate Mall Siege, Day 3 in Pictures [WARNING: GRAPHIC IMAGES]
Nairobi Westgate Mall Siege: Militants Threaten to Kill More Hostages
Nairobi Westgate Mall Siege: Kenyan Troops Launch Major Assault on al-Shabaab Insurgents
Nairobi Westgate Mall Siege: President Kenyatta Vows to Pursue Online Writers as Al-Shabaab Defies Twitter Ban
Nairobi Westgate Mall Siege: 10 Nations Mourn Victims
Nairobi Westgate Mall Siege: 'The White Widow' and the Western Jihadists Fighting for Al-Shabaab
Nairobi Westgate Mall Siege: Israeli Special Forces Battle Al-Shabaab Terrorists
Nairobi Westgate Mall Siege, Day 2 in Pictures [WARNING: GRAPHIC IMAGES]