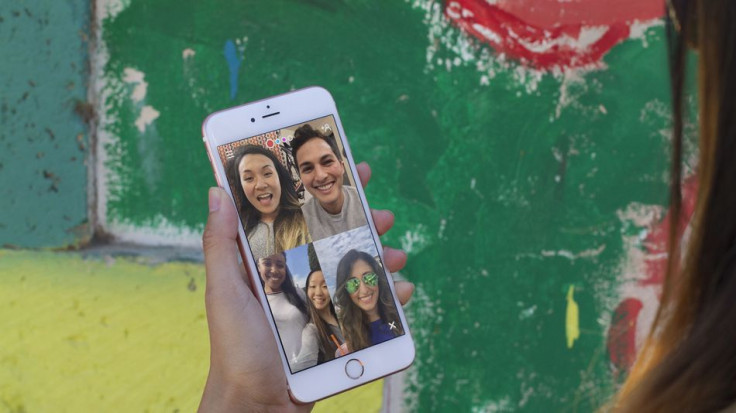 A mobile app that enables users to have private group video chats has spread like wildfire just through word of mouth and is now being used by almost 1 million young people.
Houseparty is an iOS and Android app that allows up to eight smartphones to live stream video at the same time on the same screen and talk to each other, with users given the option to join group chats that are currently going on with their contacts.
The app is free and all you have to do is download it on your mobile device, sign up for an account and then allow the app access to all your phone contacts. If none of your friends are using the app yet, you can send them an SMS text message from the app inviting them to download it and connect with you.
Once your contacts have signed up for accounts too and accepted your invite, click on a friend's name to start a new video chat with them. The screen divides into two showing two video streams from the front-facing cameras on your phone.
You can choose to either lock down the room to keep your conversation private with just one contact, or invite other people join the chat by sending them invites, which are also sent by SMS.
Keeping their app on the down low
Houseparty was released in November 2015 and has been quietly acquiring users, mostly young people who see the app as the next new exciting social media experience. The app is made by mobile developer Life on Air, a video broadcast live streaming pioneer that first made waves in 2015 with its app Meerkat.
In February 2015, app developer Ben Rubin changed the face of mobile video by releasing Meerkat. The premise was simple – all the app did was to enable you to broadcast live video to your Twitter followers from an iOS device, and you could choose to either start broadcasting immediately, or schedule a stream for a later time, and have the app send out a tweet to your followers to let them know when you started broadcasting live.
It was a great idea and as soon as Rubin launched the app, it was a huge hit. But unfortunately for Rubin, his idea was such a good one that social networks decided to copy it. Heard of a rather nifty app called Periscope? That was Twitter's answer to Meerkat in Marsh 2015. And then Facebook decided to add the ability to live stream into its mobile app in August 2015.
Sadly, according to The Verge, although Meerkat was doing really well and had raised $12m in funding from investors on the belief that the app would become the next big social platform, Periscope started to become more popular and Meerkat began haemorrhaging users.
There was also the problem that people didn't seem to want to broadcast footage of themselves live all the time. Today, Periscope is most commonly used by the media, citizen journalists or for marketing campaigns, although there are almost two million users watching live streaming videos on the service every day, according to latest statistics.
Houseparty has exploded in popularity in the US
So in August 2015, Rubin and his team went back to the drawing board and developed a new app that focuses on private mobile video broadcasting rather than public streaming.
They didn't want anyone to associate the new app with the Meerkat brand, so they just launched it with zero publicity and listed the developer on the iTunes App Store and Google Play as "Alexander Herzick", the husband of Life on Air's COO, who was almost invisible on social media, so no one would be able to verify who he worked for.
Instead, they promoted the app by sending employees to university campuses in Alabama, Ohio and Arkansa, to teach students how to use the app by visiting sororities, fraternities and other student groups. And once users began using the app to chat, make plans and even do homework, the app was soon being used in all 50.
Today, the app is doing so well that Rubin has had to hire a former senior engineer from Twitter to advise it on how to scale to meet rising user demand, and the app has received rave reviews from users on both app stores, who say that it makes it easy to catch up with multiple friends at the same time, and that it is fun to see what each person is up to in their lives, even if it is just a few minutes.
Houseparty has yet to make a big impression in the UK, but it is likely that millennials will find the app just as addictive as Americans have, once they know what it is.