The biggest fight in combat sports history will take place in just five days as Conor McGregor will take on Floyd Mayweather in a cross-code boxing fight on Saturday (August 26).
The Irishman has repeatedly claimed that he will be the first to knock out Mayweather and "shock the world" by ruling two sports – mixed martial arts and boxing.
However, common sense dictates that someone with no professional boxing experience should not be able to defeat a notoriously defensive boxer who is yet to be knocked down, let alone beaten in 49 fights so far.
Despite this obvious fact, there are many fighters, both in the boxing and MMA world, who believe the "Notorious" will be able to achieve the impossible. So who are they and how do they see the fight going in McGregor's favour?
Former boxing heavyweight champion Tyson Fury
One of the only few in the boxing world who are actively supporting McGregor is the recently "retired" Tyson Fury, who has predicted an early first round knockout win for the 29-year-old.
"I think McGregor will do him in one round," Fury said back in June. "I think Conor McGregor will knock him out in the first 35 seconds like he did to Jose Aldo, to be honest.
"It would be good for boxing if McGregor chinned him. It would be great for the real people of the world."
UFC welterweight fighter and McGregor's training partner Gunnar Nelson
McGregor's teammate, and one of the best welterweight fighters in the world today, Gunnar Nelson is also predicting a victory for the Irishman, simply due to the fact that "Mystic Mac" said he would do it.
"I think Conor will get it," he explained in an interview. "I don't know if it's going to be inside the first four rounds or whatever but if he thinks so, I'd say that'll be pretty accurate.
"It makes sense that it would be early because his style, the way he is going to come forward, if he catches him with that left hand, it'll probably be sooner rather than later."
UFC women's strawweight champion Joanna Jedrzejczyk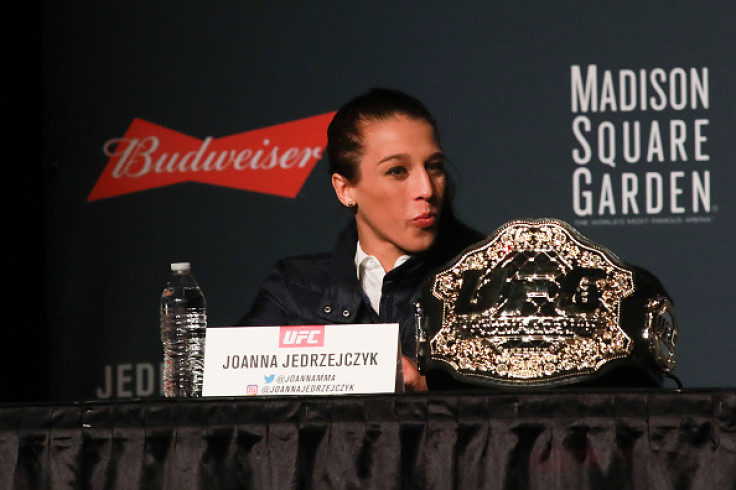 Like McGregor, Jedrzejczyk is also represented by Paradigm Sport Management, and the Polish fighter has gone for a victory for the lightweight champion.
"I'm Team Conor McGregor," she told CNN. "Conor's mental game is on a different level and he's an amazing athlete.
"Of course, it's going to be difficult. It's in the ring, not in the octagon. But this fight is going to be epic."
Jiu-jitsu black belt and McGregor's training partner Dillon Danis
Grappling prospect Dillon Danis, who helped the "Notorious" prepare for his fight with Nate Diaz, has predicted that Mayweather will get knocked out within six rounds, giving "Money" a couple of extra rounds due to his evasiveness.
"I don't just think he'll hang with him, I think he knocks him out," he revealed. "100%. I think a little bit more dragged out [compared to his knockout of Aldo], Mayweather is a little bit better at avoiding the shots but I think maybe under 6 [rounds]."
UFC light heavyweight fighter Paul Craig
A British mixed martial artist who has predicted a win for McGregor is light heavyweight prospect Paul Craig. Having previously stated his desire to become the Scottish McGregor, Craig claims the press conferences during the world tour played a part in his prediction.
"Originally, I thought Mayweather was going to destroy him," Craig stated. "Pro boxer, 49-0, untouched for years, one of the best evasive boxers ever.
"But the more I watch these press conferences – and I know press conferences have nothing to do with fighting ability – but McGregor draws you in and he's making you believe that he has that ability to beat him and I'm actually saying he will beat him.
"I think he'll be able to do it in the first three rounds."
UFC featherweight fighter and McGregor's training partner Artem Lobov
One of his closest friends, training partners and UFC featherweight fighter Artem Lobov believes Mayweather will not make it past the fourth round as predicted by McGregor.
"Look at Conor's fights. There's not many decisions there," Lobov told MMAJunkie. "He's been to a decision twice (in the UFC). Once with no leg, no ACL (against Max Holloway), and then another time (in the Nate Diaz rematch).
"Of course we're going to knock out, we're expecting a knockout. In a boxing fight, he's going to have nowhere to hide, Mayweather. Conor will find him and catch him."
UFC lightweight fighter Stevie Ray
Scottish lightweight fighter Stevie Ray also believes McGregor will shock the world as long as the fight does not go to a decision.
"I think McGregor's going to get in Mayweather's head, shock the world and knock him out early," Craig predicted.
"I wouldn't be surprised obviously if it went the full distance and Mayweather wins but my prediction is McGregor's going to win by KO early."