A Belgium teenager who was scouted to be a model after appearing on TV while watching her country at the World Cup in Brazil, has reportedly lost her contract after an image of her hunting emerged online.
The 17-year-old became an internet sensation after she was spotted cheering on her country when they took on Russia in the group stages of the World Cup tournament.
In the photographs taken at the match, she is seen in a vest and scarf as well as red, yellow and black face paint and a horned hat.
Although Belgium were later eliminated by Argentina in the quarter finals, the teenager's picture went viral and she scored a modelling contract with global cosmetics giant L'Oreal.
The French brand featured the blonde beauty, dubbed 'the most beautiful football supporter', in its Belgique social media campaign and also filmed a tutorial of her showcasing their new haircare products.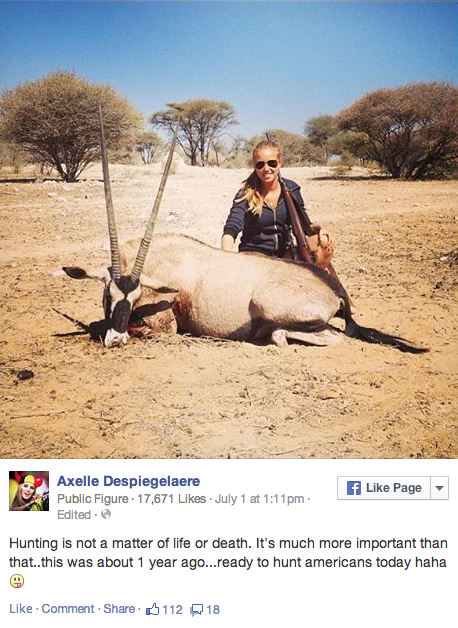 However, L'Oreal as since cut ties with Despiegelaere, claiming that her contract has been "completed".
The surprise announcement comes days after the young model provoked outrage over a photo of her posing with a rifle and a dead animal during a hunting trip to Africa.
"Hunting is not a matter of life or death. It's much more important than that," she allegedly captioned the snap posted to her now-defunct Facebook page.
Although L'Oreal has not directly addressed the image, the company will likely be keen to distance itself from the controversy.
"L'Oréal Professionnel Belgium collaborated with her on an ad hoc basis to produce a video for social media use in Belgium. The contract has now been completed," as spokesperson said.
But with over 47,000 views on YouTube and a growing fan base on social media, we are sure we will be seeing a lot more of this gorgeous Belgian.
Axelle Despiegelaere Facts
She is 17-years-old
Her professional Facebook now has more than 200,000 likes.
Axelle is the daughter of a wealthy industrialist and real estate investor.
She travelled to Brazil to watch Belgium take on Russia in a Group H World Cup game.
She filmed a promotional video for L'Oreal showcasing their new haircare products.