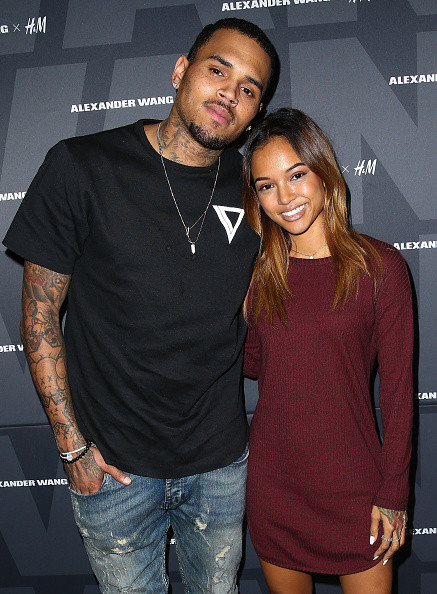 Chris Brown's already complex love life took a scandalous turn after news broke that he fathered a child with a woman that isn't his on-off girlfriend Karrueche Tran.
Before the Navy go into meltdown, it isn't Rihanna. The woman in question, according to TMZ, is long-time friend Nia Amey, who is reportedly the mother of the 25-year-old star's nine-month-old baby girl.
According to the celebrity news website, which broke the news of the r'n'b star's foray in fatherhood, although they are no longer romantically involved, they are on good terms.
Although little is known about Amey, a picture posted on Instagram reveals that the model and nursing student from Texas has the same circle of friends as Brown's now ex-girlfriend Tran - who ended their relationship via Twitter after finding out the baby news. At a party in Las Vegas in May 2013, Tran was even pictured with her arm around Amey as the two women wore bikinis and blew kisses at the camera.
Amey (2nd R) has partied with Tran (C)
Although there is no mention of a paternity test, Tran appeared to confirm the news by declaring she didn't want no "baby drama".
As the drama continues to unfold, IBTimes UK gets to know Amey a little better...
Nia Amey facts
She hails from Texas and also goes by the name Nia Gonzalez.
Amey is an aspiring model and nursing student.
She is reportedly signed to Jas Prince's Y.E.M.G music label.
She is in the same circle of friends as Brown's now ex-girlfriend Karrueche Tran. There is even an Instagram picture of Tran with her arm around Amey at a party.
Her Model Mayhem bio from 2009 reads: "My name is Nia Amey. I am a 25-year-old aspiring model. I'm a full time nursing student and a very outgoing person. I love photography and always up for new adventures."
According to a TMZ, she has "known Chris for several years". Although they are on good terms, they are not currently romantically involved. There is no formal child support arrangement set up.
She is said to have named their nine-month-old daughter Royalty.
Her modelling profile reveals that she has posed topless.
It is not clear if Amey was Brown's mistress or whether he was on a break from his tumultuous relationship with Karrueche when he allegedly fathered the nine-month-old child.
Instagram user @royalty_yaye_bah claims Amey led him to believe that he was the father of the little girl until the truth was revealed.