A musician filmed himself being murdered while talking about his birthday celebrations on Facebook Live for being a "snitch".
Prentis Robinson, a 55-year-old musician, was recording himself in a livestream to his friends and fans while walking down a rural road near Wingate, North Carolina, on Monday, with a selfie stick before he was gunned down by a man.
Robinson, who acquired a reputation for reporting suspected drug activity, had been talking about his desire to move from Charlotte to Atlanta in the moments leading up to his death, before he was approached by a figure in a blue jacket.
He appeared disturbed by the sight of a gun and said "You on Live" several times in a calm voice, before four shots were fired in quick succession.
The killer has been on the run since Prentis' murder in the street, police have confirmed, and nearby Wingate University has been locked down.
Tony Underwood, a spokesman for Union County Sheriff, said: "We're pursuing leads and trying to figure out what this is all about."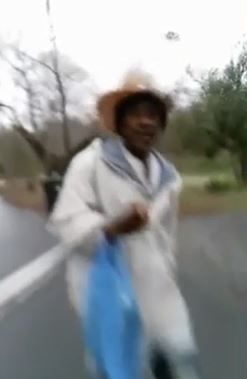 A reporter at Fox 46, David Sentendrey, tweeted that Robinson had been known for revealing drug dealers and named a suspect.
He said: "Prentis Robinson was shot and killed while on Facebook Live. He was known for "outing" suspected drug dealers online. A warrant has been issued for an arrest of Douglas Cleveland Colson."
Wingate police chief Donnie Gay also claimed that Robinson was just at the police department "two minutes before he was shot."
Prentis regularly filmed his day-to-day activities on Facebook Live and has been mourned by friends on the social media platform, with one person writing: "I'm not only pissed but I'm hurt. That was a cowardly move to kill this man on his birthday!"
Another said: "Prentis Robinson is a hero for refusing to be intimidated into silence. The notion of someone being a "snitch" needs to die. He was reporting blatant crime. The killers aren't the only guilty parties. #Wingate."
While someone else added: "A good, community-minded man murdered by drug dealers for doing the right thing. Remember #PrentisRobinson; an angel on earth, who now joins a realm of angels. May his murderers be brought to justice, and my his family find peace in his legacy of goodwill.."