Thierry Lébéné: Anti-Balaka military commander operates freely in CAR
Lébéné and other armed leaders facing allegations of crimes continue to roam CAR unhindered.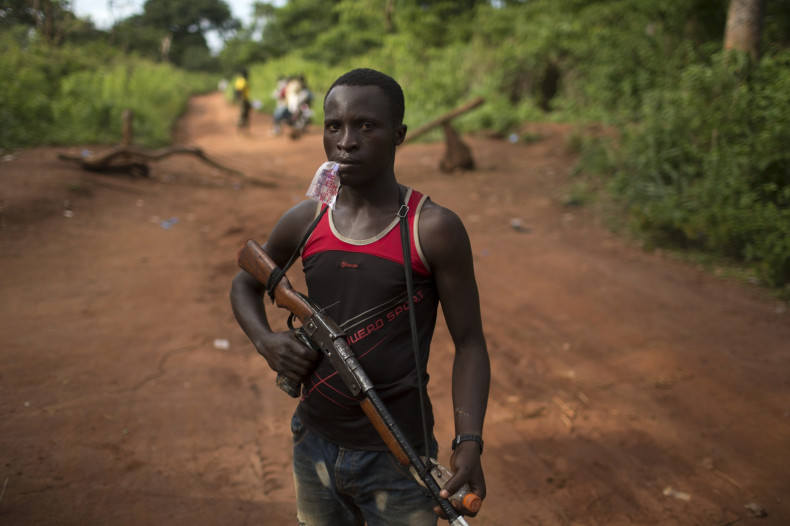 Impunity in the Central African Republic means that the vast majority of individuals suspected to have orchestrated or committed war crimes and crimes against humanity are still "roaming free".
After decades of violence punctuated by a fragile peace agreement, the country erupted into chaos again when Muslim rebel group Seleka toppled then-president François Bozizé's government in March 2013.
Following the coup, the existing largely Christian vigilante anti-Balaka self-protection groups organised themselves to fight against the Seleka, carrying out large-scale reprisal attacks against Muslim civilians and sparking a sectarian civil war.
Several high-profile leaders have been arrested, but none have ever been prosecuted. IBTimes UK profiles Thierry Lébéné, a well-known anti-Balaka commander.
Known as "Colonel Douze Puissance", the former commander of the Forces Armées Centrafricaines (FACA), the CAR armed forces, Lébéné was allegedly behind a series of attacks against civilians in many parts of CAR, documented by organisations including Amnesty and Human Rights Watch.
At the military level, Lébéné coordinated a group of anti-Balaka fighters named "Coordination nationale des Libérateurs du Peuple Centrafrican" (CLPC) based out of the Boy-Rabe neighbourhood of the capital, Bangui. At political level, the CLPC was coordinated by Patrice Edouard Ngaissona, a former minister turned leader of the armed movement. Despite allegations, Ngaissona remains untouched by any investigation.
During his role as military leader of the Anti-balaka group, Lébéné is reasonably suspected of having committed crimes under international law including other serious human rights violations and abuses, the United Nations claimed in October 2014.
In one such instance, his fighters - armed with Kalashnikovs, grenades and machetes - raided a village, killing three civilians, badly injuring at least 20 more, burning down 28 houses and a church on 14 October 2014, according to witnesses and victims.
No investigations appear to have been carried out, and Lébéné remains at large.