Pokémon Go fans in Japan can finally rejoice as the hit game will finally launch in its birthplace on Wednesday 20 July. To make up for the long wait, McDonald's restaurants across the country will become the first sponsored gyms.
The mobile game, which has added $7.5bn (£5.7bn) to Nintendo's market value, is currently available in 30 countries including the US, Australia, New Zealand and much of Europe. However Japan has had to wait as Niantic was concerned that its servers would not be able to handle the onslaught of eager Japanese Pokemon fans, given the recent outages experienced by many users over the weekend of 16-17 July.
Niantic's announcement also confirms a rumour that emerged last week when multiple users on Reddit analysed the code in the Pokémon Go app and found mentions of McDonald's in the code, as well as an image file of the 'Golden Arches' in a folder included in the app's .apk file.
Niantic's chief executive John Hanke told the Financial Times on 13 July that its business model for Pokémon Go was to offer it to download for free, and make money from in-app PokéCoin purchases as well as by enabling companies to sponsor specific locations, which is similar to the business model for its previous game app Ingress.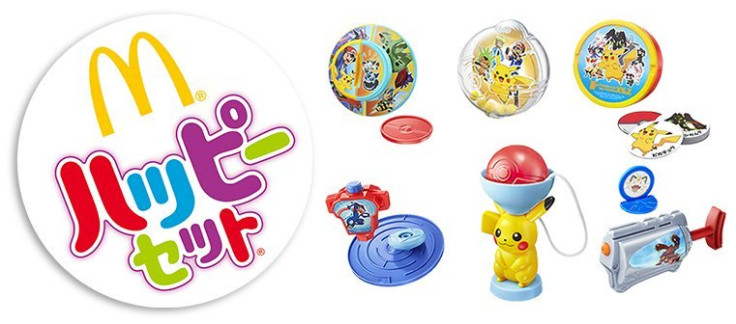 Pokémon Go is a free-to-play smartphone game app for Android and iOS devices by Nintendo and developers Niantic that uses augmented reality (AR) and real-world location data to enable users to explore their surroundings and capture Pokémon, mysterious cartoon animal-like creatures that have special powers.
The idea is that anyone can become a Pokémon trainer, collecting various Pokémon with different powers and raising them to go into battle against other trainers. Markers listed on an augmented reality map of the users' surroundings shows special locations like "PokéStops", where players can find in-game loot like food, potions and Pokéballs, or gyms, where users battle against Pokémon trainers from opposing teams in order to capture the gym for their side.
Pokémon Go tie-in features six exclusive Happy Meal toys and a comic book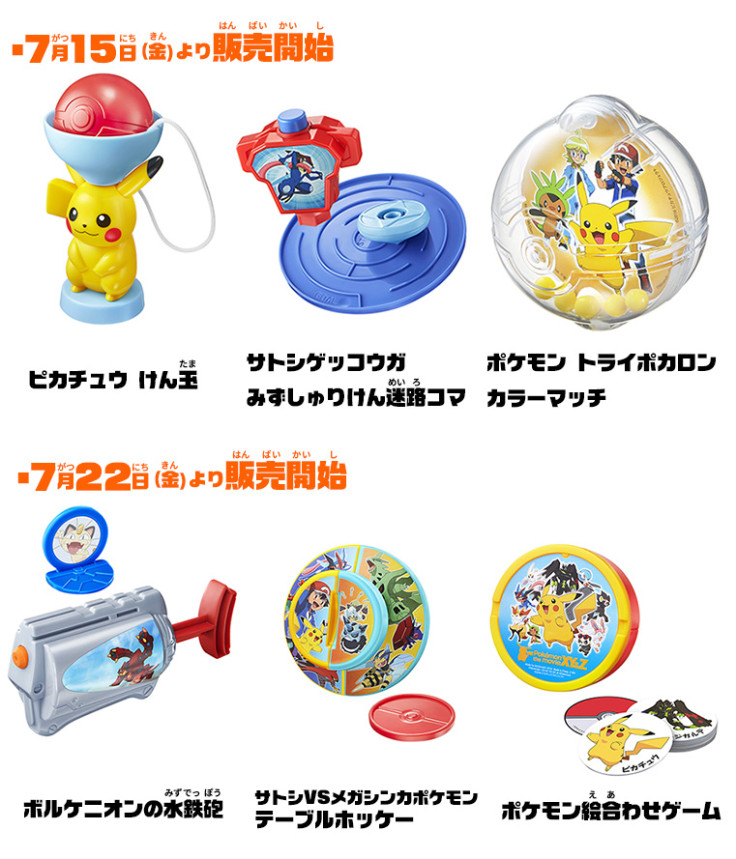 McDonald's has over 3,000 fast food restaurants in Japan that will tie-in to become official Pokémon gyms, while the restaurants will be selling Pokémon-branded Happy Meals that feature limited-edition Pokémon toys.
The six toys will include a Volcanion Water Gun; a "Satoshi VS Mega Evolved Pokémon" table hockey paddle and puck; a Pikachu-themed picture-matching game featuring multiple circular cards in a matching box; a Kendama (traditional Japanese cup and ball game toy) in the shape of Pikachu; a Satoshi Gekkouga Water Shuriken Maze Top; and a Pokémon Tripokalon Colour Matcher game.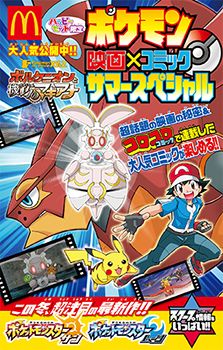 There is also a limited edition Pokémon Movie x Comics Summer Special comic book containing part of the movie in manga form, together with exclusive new original comic strips, that was given out over the weekend of 16-18 July.
McDonald's Japan routinely has tie-in campaigns for Pokémon with Nintendo and Bandai whenever a new video game or cartoon series is launched, which is about once every one and a half years. These toys are unique in that they are themed games, rather than figurines or Pokéballs.
Nevertheless, Bloomberg reports that McDonald's Japan has seen its shares jump by as much as 23% – its largest daily gain since it was listed in July 2001 – due to investors' expectations that the new Pokémon Go partnership will be a fruitful one.
Japan is being seen as the test bed to see if such a mobile gaming partnership with a brick-and-mortar restaurant would be successful before rolling out out similar arrangements in other countries, where businesses that are not lucky enough to have been chosen as PokéStops or gyms are keen to get involved to increase customer foot traffic.