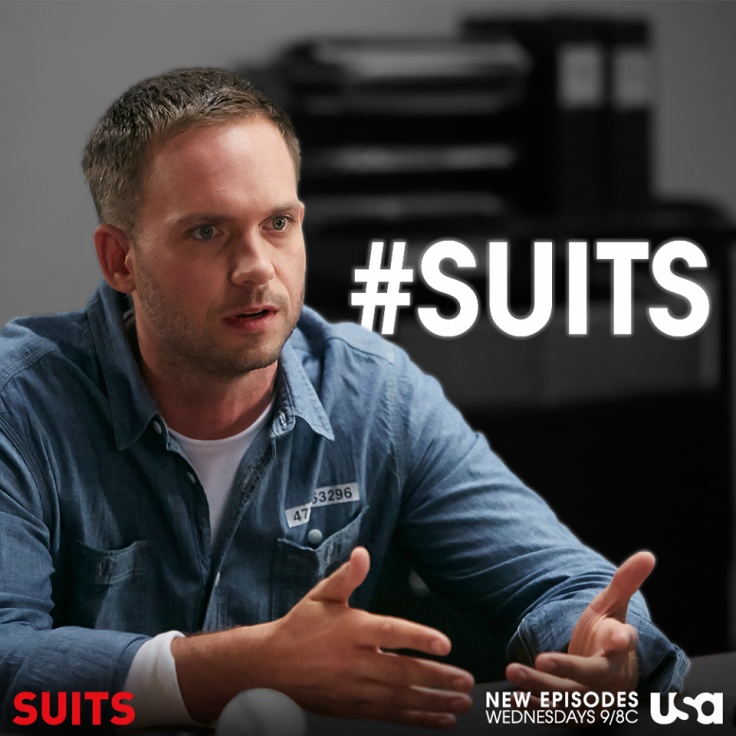 Mike Ross will face a moral dilemma — whether to go ahead with Harvey Specter's plan, or be a good friend to Kevin Miller — in the upcoming episode of Suits season 6. Episode 7 is titled, Shake The Trees, which will air this Wednesday (24 August) at 9pm EST on USA Network.
Mike finally has the information to implicate William Sutter and earn his freedom. However, he promised his cellmate Kevin that he would keep his secret to himself. Betraying Kevin's trust will shatter Mike as he is the lawyer's only friend in Danbury prison.
According to the synopsis for the upcoming episode, "Harvey, Louis and Donna will be looking for a missing link in the history of insider trading involving Sutter. Mike will take drastic measures to get Kevin on his side. Rachel and Jessica give bad news to Leonard Bailey."
Click here to watch Suits season 6 via live stream on the USA Network. You can also watch the episode online by clicking here (only in the US).
A promo for the episode shows Sean Cahill lashing out at Harvey. Cahill says, "I didn't sell my soul last night to watch that son of a b****h ride off into the sun set." Meanwhile, Harvey goes to warn Mike that they are running out of time. "If we don't give Cahill something soon, you will be sitting here for the next two years."
The promo says, "All bets are off," as Kevin tells Mike, "Take your goddamned good intentions and go to hell!"
Meanwhile, Rick Hoffman who plays Louis Litt, has not been very involved in Mike's case, but the upcoming episode will change that. Hoffman, in an interview with Access Hollywood, said, "The writers have this really kind of cool way of bringing the characters somehow together towards the crescendo of these types of storylines, so Louis, in his own way, is involved, just as far as what degree, we'll let the viewer find out on their own," he said.
Will Mike go through with Harvey's plan and betray Kevin? To know more keep watching Suits season 6 on USA Network.