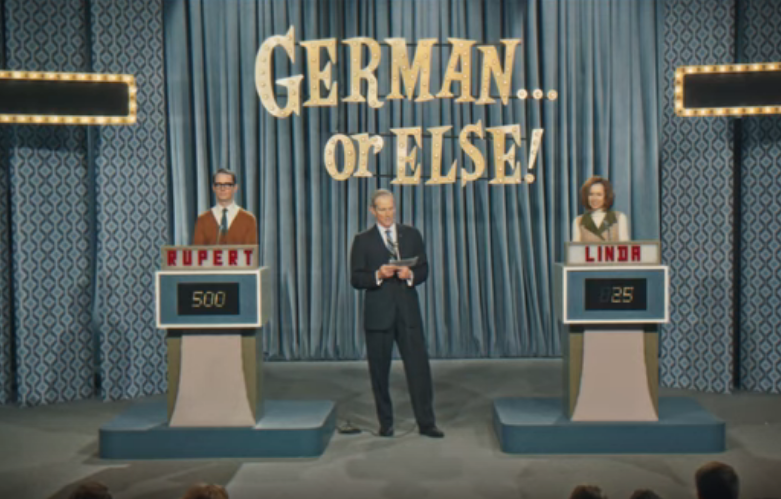 Bethesda has released a new trailer for its upcoming Wolfenstein 2: The New Colossus showing off an alternate universe by giving fans a glimpse of what 1960s USA might look like under the Nazi regime. The brief video features a twisted fictional, propaganda-fuelled game show called "German... or Else!" where two Americans are tasked with translating abstract nouns from English to German.
As one contestant named Rupert easily beats his competitor Linda, she soon finds herself taken away by two Nazi soldiers for four weeks of "Re-Education" much to the delight and cheers of the smiling audience.
"It's not enough for the Nazis to simply subjugate the planet", Bethesda said in a release. "When it comes to America (and, likely, the rest of the world), it's all about taking Germany's culture and forcing it on the local territories, to further enhance the Nazi Reich and irrevocably solidify their empire.
"That's why they are even imposing their will on pop culture, taking what would have been iconic American TV shows and producing them with a uniquely German attitude. Watch an episode of German... or Else! right now to get a feel for life under Nazi tyranny in Wolfenstein II: The New Colossus."
Towards the end of the trailer, the game show host reminds American viewers to learn their German before the "Great Changeover Day" when American Territories must officially adopt the German language.
"Remember, only 173 days left of English. Make sure you're prepared", the host says with a smirk.
Developed by Swedish studio MachineGames, the sequel to 2014's Wolfenstein: The New Order will see the return of protagonist BJ Blazkowicz, aka "Terror-Billy", as he takes on the Nazi regime in 1961 America along with a group of resistance militants.
Short videos similar to the "German... or Else" episode and the recent "Liesel" video will appear throughout the upcoming game, Bethesda said. Full versions of these videos will be released over the next few months "to give you a glimpse into the world that BJ Blazkowicz will be saving from Nazi oppression in The New Colossus".