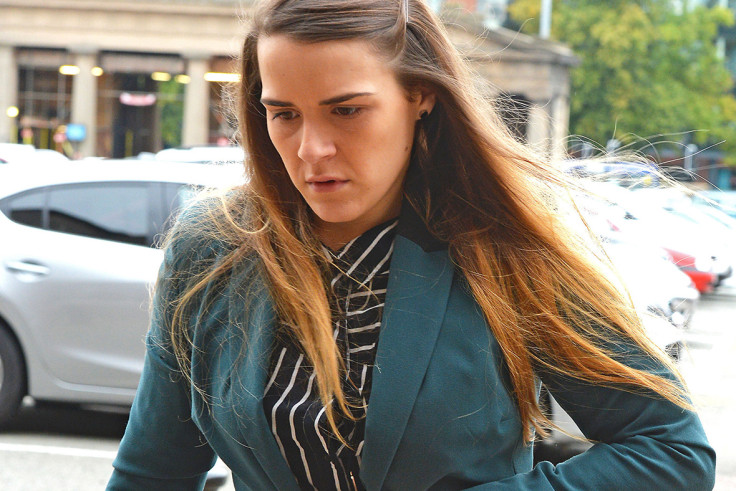 A woman has been found guilty of impersonating a man to trick her female friend into sex using a fake penis.
A retrial jury at Manchester Crown Court heard that Gayle Newland created an online persona to lure a woman into sex for more than two years in an "astonishing deception".
The court heard that the 27-year-old created a "disturbingly complex" fake profile to achieve her own "bizarre sexual satisfaction" under the name "Kye Fortune" - a Facebook profile she created at the age of 15.
The Willaston, Cheshire, resident had used an American man's photographs and videos to create the profile and had claimed that the victim knew of the façade while they were intimate.
Newland was found guilty of committing sexual assault by using a prosthetic penis without her victim's consent and will be sentenced on 20 July.
In November 2015, Newland was jailed for eight years of the same offences at Chester Crown Court.
However, the conviction was quashed in the Court of Appeal in December 2016 and a retrial ordered after it was stated that the trial judge's summing up of the case was not fair and balanced.
The court had heard that the complainant was convinced to wear a blindfold at all times by the defendant even watching television and sunbathing.
They complainant said "Kye" told her that he was undergoing treatment for cancer and was paranoid about his physical appearance and only realised she was having sex with Newland when the mask was finally taken off.
But Newland had claimed that she had always known she was pretending to be "Kye" as they engaged in role play speaking for "hundreds" of hours on the phone and more than 100 hours in each other's company.
The complainant said according to the BBC: "There was no point until the day I took the blindfold off that I thought for one second that a woman was the person behind this."
Judge David Stockdale QC told Newland the "overwhelming likelihood" was that she would receive "a significant immediate custodial sentence"
Prosecutor Simon Medland QC asked her: "To whom were you consenting?" to which the complainant replied: "With Kye Fortune. The person I knew from the photos, the person I had spoken to, the person I shared all my dreams with, the person who I thought was half-Filipino half-Latino."
Newland had claimed that when they had sex on around 10 occasions at the complainant's flat in Chester in 2013 and at no stage did she conceal her appearance.
Newland was found guilty of three counts of sexual assault and cleared of a fourth count.