UK-based smartphone maker Kazam has launched what it claims is the thinnest smartphone, with the Tornado 348 measuring just 5.15mm deep.
For comparison the iPhone 6 is 6.9mm deep, while the previous device claiming to be the world's thinnest smartphone, the Elife S5.5 from Chinese company Gionee, was 5.55mm deep.
The Tornado 348 comes with a 4.8in Full HD screen, 8 megapixel camera, a powerful MediaTek octa-core processor, and a price of just £249.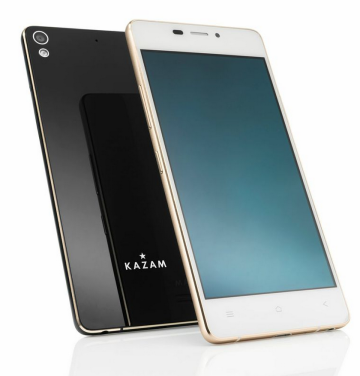 Kazam is the brainchild of James Atkins and Michael Coombes, both previously employees of struggling Taiwanese smartphone company HTC. The company is based in offices in London's Mayfair but has a 50-strong R&D team based in China where the company's smartphones are designed and built.
Since launching in June 2013, Kazam has sold a range of Android smartphones with features such as dual-Sim support, free screen replacements, and "disruptive pricing" in order to challenge the incumbents in the hugely competitive market.
Purchasers of the new Tornado 348, which goes on sale in the UK from mid-November, will be able to claim one screen replacement in the first 12 months from the date of purchase.
Innovating
Coombes, who is the CEO at Kazam, said: "We are delighted to be unveiling the world's slimmest smartphone. Kazam remains focused on innovating in areas often overlooked. The Kazam Tornado 348 combines superior design with heavy hitting features, all backed up by the Kazam proposition, adding real value for consumers."
Jeffrey Ju, vice president and general manager of wireless communication at MediaTek, said "Kazam is a prime example of the changing face of mobile technology – hitting the market with the slimmest mobile phone packed with our advanced, high performance MT6592 True Octa-core SoC. This partnership stands as testament to the way we work with an inclusive ecosystem to drive affordable technology into the hands of everyone."
In a market as saturated and crowded as smartphones, companies will try anything to carve out a niche for themselves, and while Kazam has had little success with its screen replacement policy, it will hope that being able to claim the title of world's thinnest smartphone will at least put it on people's radars.
The fact the company is European-based is also a novelty in the smartphone market with the traditional power-bases of the US and South Korea currently coming under fire from China where company's such as Xiaomi, Huawei, and Lenovo are the upcoming force in the smartphone industry.