WWE 2K17: Goldberg set to return as marquee pre-order bonus for Xbox One and PS4 grappler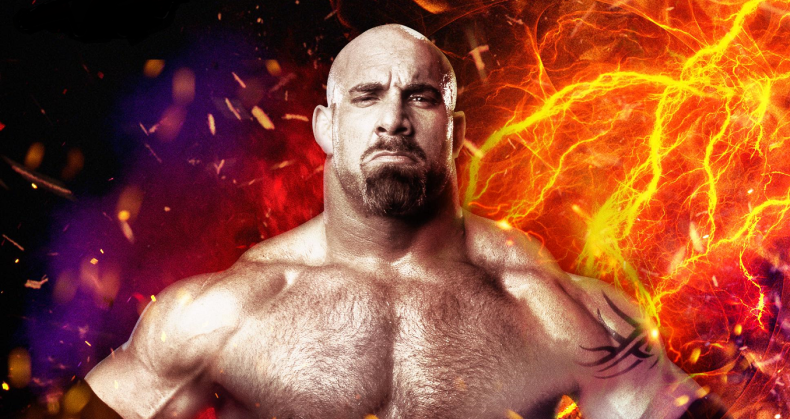 WWE and 2K Games have announced that Goldberg will join the hallowed ranks of Sting, Ultimate Warrior and Arnold Schwarznegger (seriously) after being revealed as the exclusive pre-order bonus character for WWE 2K17 – set for release on Xbox One and PS4 in October 2016.
Continuing the trend of 2K Games' WWE series presenting big draws as a pre-order exclusive, Goldberg will appear in the game in two versions, designed to reflect both his WCW and WWE personas. Goldberg is best known for his marauding (if slightly exaggerated, statistically) 173-0 winning streak in WCW.
The announcement came on the TV episode of WWE Raw on 30 May, ending speculation about a series of cryptic tweets from WWE's Twitter account which included the odd hashtag '#Hatch'. The hatch, it turns out, was where Goldberg (real name William 'Bill' Goldberg) was being kept/ imprisoned/ cryogenically frozen before being unleashed in virtual form.
The Californian footballer-turned-grappler's marquee appearance as a pre-order bonus inevitably teases a few key matches, but could also lead to the inclusion of WCW content in the upcoming title. While WCW matches have featured in the series in the past, Goldberg's legendary status at WWE's former rival during the 1990s could result in an expansive showcase of the brand for the first time in a WWE branded video game.
"It's just a really cool deal to be a character in WWE 2K17," said Goldberg on WWE's website. "Whether it's Nitro or Halloween Havoc, to have me as an available character, it's really cool. It's a tribute."
The trailer also includes a blink-and-you'll-miss-it reflection of a sign for Suplex City, which alludes to Goldberg's WWE feud with the part-human, part-beast, Brock Lesnar. The two behemoths faced off in Goldberg's final WWE appearance at Wrestlemania XX in 2004, an encounter which WWE described as "legendary" in an accompanying press release. In reality the match is often remembered as one of the worst matches in Wrestlemania history.
Is the real Goldberg returning to the WWE ring?
With content teased for Goldberg's match-ups with Dwayne 'The Rock' Johnson, Ric Flair and Triple H, the news inevitably set tongues wagging about Goldberg's real-life return to the WWE ring – considering 2K15's pre-order star Sting debuted for the company days after the game's release.
"Does my inclusion in WWE 2K17 mean the next step is to get back in the ring? That's not my intention by any stretch of the imagination," Goldberg told The Ringer Wrestling Podcast (via Cageside Seats). "I initially just want to put a smile on my son's face and show him what his daddy used to do, ripping guy's heads off. If it leads to something like that then I don't know, man. You never say never."
WWE 2K17 is set for release on Xbox One, PS4, Xbox 360 and PS3 in October 2016