It almost seems certain that The Undertaker is done with the WWE. The Deadman hinted at his retirement from active wrestling following his fight with Roman Reigns at WrestleMania 33 on 2 April.
Following his defeat at the hands of The Big Dog, The Phenom, made a theatrical exit from the ring – he placed his signature black coat, hat and MMA-style gloves in the middle of the ring and disappeared from view as he walked up the ramp with his hands raised high.
As he did so, emotions ran high within the WWE universe as his exit was unexpected.
However, neither did The Undertaker nor the entertainment company officially confirm the wrestler's retirement. But some WWE superstars did bid him farewell on social media and during interactions with the media.
A majority of the fans believe that the WWE legend will never step foot in the ring, but some are of the opinion that the superstar might just return and fight after his hip replacement surgery.
If he does not make a comeback then it would mean that the superstar had lost in his final fight, something no athlete would wish for in their career.
Although it is certain that The Undertaker may not return, fans are hoping that the veteran wrestler gets a chance to avenge his loss.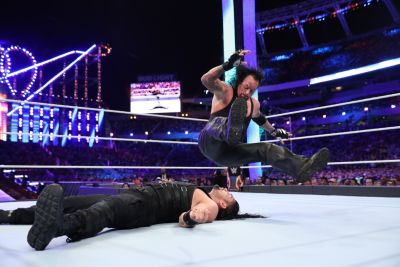 Kane (The Undertaker's brother) was recently asked if he was going to avenge his brother's loss.
"That is, as we say in the States, TBD, to be determined. And I wouldn't want to ruin any surprises if I did know..." he told Gulf News when he appeared at the Middle East Film & Comic Con in Dubai.
Speaking about the fight between The Undertaker and Reigns, he said it was sad because for "me it's like a chapter has closed".
"(Smiling) Well, Undertaker can take care of himself! We all knew at some point that was inevitable, but nevertheless it's, sad because for me it's like a chapter has closed, and I think a lot of WWE fans feel the same way," he said.