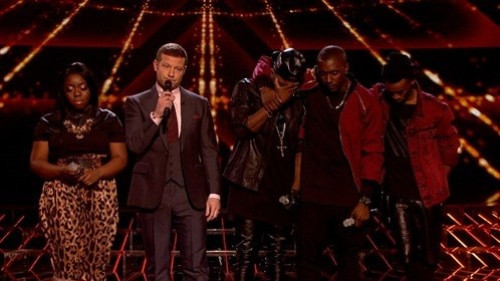 Nicole Scherzinger has lashed out at the British public after Hannah Barrett found herself back in the bottom two for the third time on The X Factor live results show.
Mentor to the girls, 35-year-old Scherzinger did not hold back as she vented her ire after the public vote was revealed.
"These two acts should be in the final," said the former Pussycat Doll. "They shouldn't be standing there. I am so disappointed and furious with the British public that they have my girl here. It's a travesty. I will stand by my girl till the end," she added.
Sharon Osbourne echoed the sentiment saying: "It's a travesty that Hannah should be here and Rough Copy. I just want to make that note."
Louis Walsh proffered perhaps the most scathing attack, with a jibe at Scherzinger's surviving act Tamera Foster, who forgot her lyrics during her performance on Saturday's (23 November) live show.
"Dermot it was an amazing sing-off and it's amazing that we've got two acts here and they remember all their words. They remember all their words," said Walsh pointedly.
In a show-stopping sing-off with Gary Barlow's remaining act Rough Copy, Barrett sang for her life, but her powerful rendition of the Etta James classic I would rather go blind was no match for the R n'B boys hailed as "potential international stars," with the judges sending Barrett home.
While a stunned Scherzinger looked on, the tearful 17-year-old said simply: "I am so blessed to be here."
The show also featured four star performances with One Direction singing their new track The Story of My Life. Fellow X Factor auditionees JLS made an emotional return to the show where they first found fame, while Mary J Blige and Jessie J joined forces for a cover of Do You Hear What I Hear, from the 42-year-old singer's new Christmas album, A Mary Christmas.
One of the biggest names in British music today, an awe-struck Jessie J said: "You don't know how honoured I feel to be doing this ... I'm shaking."
Five acts remain as Luke Friend, Tamera Foster, Sam Bailey, Nicholas McDonald and Rough Copy return to The X Factor stage for Juke Box week, when they will each be singing two songs.
Watch The X Factor on ITV 1 on Saturday 30 November at 8pm