When Rough Copy performed a soulful rendition of Kings of Leon's hit Use Somebody for the X Factor auditions in 2012, their heavenly harmonies made them the bookies' favourite to win the competition.
But despite making it to the judge's houses stage, the London-based trio received a crushing blow when they were forced to bow out due to complications with travel restrictions.
Twelve months on, Kazeem Ajobe, Joey Thomas and Sterling Ramsey are vying again for the crown that eventually went to James Arthur.
Speaking exclusively to IBTimes UK, the group admitted that their second chance came with "a lot of pressure".
"At the end of the day we were there last year and it was almost like the bar was left even though we didn't get to the lives [Live shows]," Joey says.
Fighting for X Factor glory
"It was really nerve-racking and we have got a lot to prove."
With their X Factor audition video attracting over a million views on Youtube and requests for gigs across the country, it is clear to see that their lives changed by being in the competition. They remain excited about the exposure they received and believe that their setback has helped them prosper as artists.
"It has been crazy," Kazeem says. "As soon as we came out of the X Factor we were doing everything from your club gig to your interviews to your school tours.
"It is a blessing and it was very humbling to be put on that pedestal. To go from six minutes on TV to being all around the country for the rest of the year - it was a great experience.
"We have been on certain stages and certain platforms that two years ago we would never have thought we could be on. God has really blessed us."
Sweet but street vocals
They may have flirted their way into the nations hearts but it was ultimately their standout vocals that impressed X -Factor judges Tulisa Contostavlos, Take That's Gary Barlow, music manager Louis Walsh and guest judge Rita Ora.
And no matter how far they go in this year's competition, the group are keen to stay true to their sound which they describe as "Sweet but Street".
"If you are having problems in your relationship, listen to our song and get some inspiration because we all go through these things," Kazeem explains.
"For the girls, the sweet element in the sense that we may look rough on the edges sometimes, but the vocals that come out of our mouths are sweet harmonies."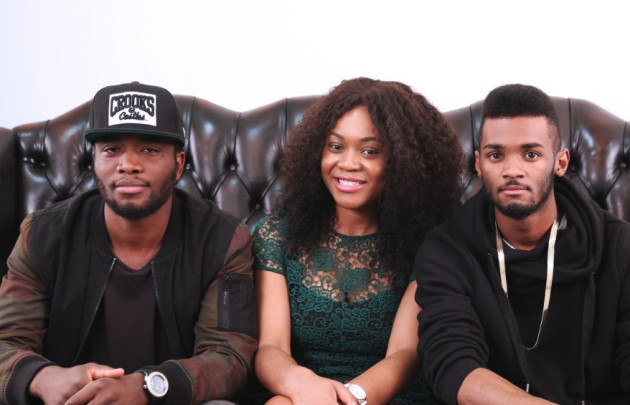 With their special fusion of R&B, Dance, Hip Hop, Soul and Mainstream pop, they are on a mission to revive the R&B genre in the UK and dominate the market.
They have shared the stage with acts including 112 and Jodeci. But the dynamic trio are now keen to experiment with other genres of music in a bid to expand musical boundaries by working with pioneers of commercial gospel music such as Kirk Fraklin, Mali Music, Shirley Bassey and Donnie McClurkin.
"It's the way they sing - the realness of it - and the rawness of it," says Joe.
R'n'B supergroup
But while the dynamic trio are keen to show off their adaptability, they also want to keep their growing fan base.
"Our background, our spine or core is R&B. We grew up listening to people like Jagged Edge, Jodeci and our vocals will never allow us to change ourselves.
"It will always be R&B... because it is something we can't get away from. Our voices alone just tell the story."
Looking forward, the group are striving for longevity in the music industry vare keen to break into the American market and gain global recognition for their talents. They hope to emulate the success of former X Factor stars One Direction.
"We wouldn't mind being nominated for a Grammy or a BET award in five years' time. Even performing at the Oscars or maybe having our own film like One Direction."
They are keen to keep their own individual identity in the wake of constant comparisons to JLS, the boyband mentored by Louis Walsh.
"They have come in and filled the gap," Kazeem says.
"I don't see why you would want another JLS because they have already done that and set the bar. Rough Copy do what Rough Copy Do."
So do they have what it takes to go all the way on this year's X Factor? They certainly think so.
"Success is what you determine it to be," Kazeem says.
"With the X Factor, this year is almost like going back with vengeance. We have opportunities to go back on there and burn down stages."