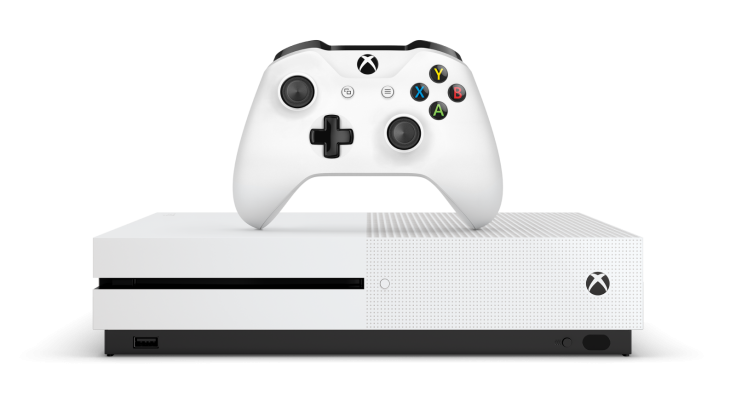 Microsoft has announced that the version of its Xbox One S slim-line console with a 2TB hard drive will be released on Tuesday 2 August. Cheaper incarnations of the freshly-designed Xbox One with 500GB and 1TB hard drives will be released at a later, yet-to-be confirmed, date.
An announcement on the Xbox news wire warns that availability for the £349.99 console will be limited and that there is high demand. The new Xbox wireless controller that will be bundled with the console will also be released as a standalone product for £49.99 on the same day.
The console is being released on 2 August in North America, the UK, Ireland, Germany, France, Spain, Sweden, Italy, Switzerland, Austria, Belgium, Czech Republic, Denmark, Finland, Greece, Hungary, Netherlands, Norway, Poland, Portugal, Slovakia, Turkey, New Zealand and Australia.
The 1TB and 500GB are priced £299.99 and £249.99 respectively. Nothing has been announced regarding when they will be released.
Xbox One S is 40% smaller than the original Xbox One, supports High Dynamic Range (HDR) and supports Ultra Blu Ray 4K discs and 4K video streaming. There's a built-in power supply, three USB ports on the new console, which removed the HDMI In and Kinect ports from the original console to make space.
The slim version will support all existing and future Xbox One games, and all future games will also continue to support the original console.
Microsoft announced the console at E3 2016 alongside Project Scorpio: a far more powerful version of the Xbox One hardware that will support 4K gaming and virtual reality. That console will play all existing Xbox One games and is set for release in late 2017.
For all the latest video game news follow us on Twitter @IBTGamesUK