Microsoft has revealed that its Xbox One console is getting a slim-line makeover in the form of the Xbox One S. Set for launch in August 2016 for a starting price of £249 ($299, €299), the redesign - which sports a "robot white" coloured chassis - was unveiled at Microsoft's E3 2016 conference.
The new machine is reportedly 40% smaller than the original Xbox One model and supports High Dynamic Range (HDR) for gaming (including Gears of War 4 and Scalebound) and video. Ultra HD Blu-ray movies in 4K definition are also supported, including 4K video streaming on Netflix and Amazon Video.
The £249 price tag is the base model of the Xbox One S which includes a 500GB hard drive, with Microsoft later confirming that a special launch edition with 2TB of storage will be available in "select markets" for £349 ($399, €399). A 1TB option (£299, $299, €299) is also in production.
All models of the Xbox One S come with a new "streamlined controller" (available standalone for £49.99 / $59.99 / €59.99) which features a textured grip, increased range and wireless and bluetooth connectivity. The new controller also "significantly reduces wear to help maintain accuracy and smooth rotation over the life of the controller."
Unlike the initial chunky Xbox One console, the One S can also be positioned vertically via a separate stand. Microsoft confirmed that the Xbox One S will also continue to support backwards compatibility and (to the joy of brick haters everywhere) have a built-in power supply.
The revised Xbox One S features a half-plain and half dotted grill design, a single front-facing USB port (two on the rear) and an infrared sensor. The dedicated Kinect port has also been removed from the reverse of the Xbox One S, although Kinect support is still offered via an Xbox Kinect Adapter which connects through USB. Existing owners of a Kinect looking to purchase the Xbox One S can register for a free adapter.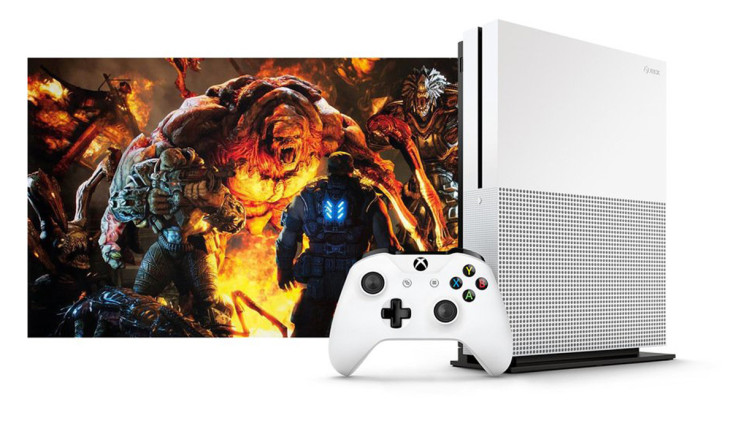 The official reveal confirmed leaks reported in May where a slim Xbox One was rumoured to be in development alongside an improved version – codenamed Scorpio - with a more powerful GPU which was also confirmed in a teaser at the E3 event.
At £249 the Xbox One S is marginally more expensive than the current price of the standard Xbox One, which retails from Microsoft's online store for £289. It is however, markedly cheaper than the launch price of the old model, which entered the console market at a price point of £429 ($499 in the US / €499 in Europe). This was later reduced when the Kinect 2.0 sensor was removed as a mandatory part of the Xbox One bundle.
The move confirms that Microsoft are moving forward with an iterative approach to its Xbox brand. Xbox boss Phil Spencer commented on the possibility of hardware revisions earlier in March. He stated: "I look at the ecosystem that a console sits in and I think that it should have the capability of more iteration on hardware capability."