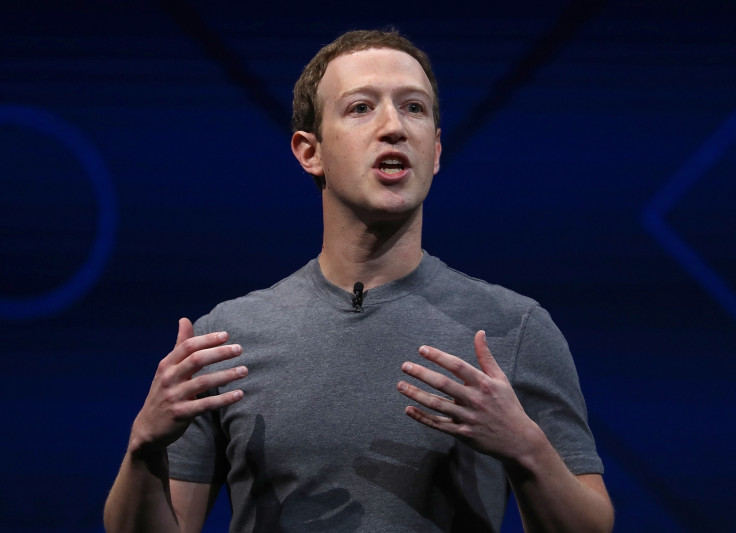 Facebook CEO Mark Zuckerberg hosted three undocumented immigrants known as Dreamers at his home in Palo Alto, California on Wednesday (6 September) to broadcast their personal stories in the wake of President Donald Trump's decision to officially rescind the Obama-era Deferred Action for Childhood Arrivals (DACA). The programme allowed 800,000 undocumented immigrants, who were brought to the US illegally as children, to legally stay in the country by obtaining renewable, two-year work permits.
Trump's decision to end the programme in six months has triggered fierce protests and widespread criticism from lawmakers, businesses, Silicon Valley and advocacy groups.
During the 45-minute Facebook Live broadcast with three Dreamers, Zuckerberg criticised Trump's decision and described DACA as "the most clear cut of all the immigration issues."
Each of the three people he spoke with during the broadcast – Leezia Dhalla, Tomas Evangelista and Maria Praeli – is a DACA recipient. Two of them work for FWD.us, an immigration advocacy group founded by Zuckerberg while Evangelista is a co-founder of the community group California Dreamers.
"To offer the American Dream to people, and then to take it away and punish people for trusting their government and coming out of the shadows... is just one of the most troubling things I think I've seen in a long time in our country," Zuckerberg said.
Zuckerberg also addressed some common misconceptions regarding DACA recipients during the chat as well including that most Dreamers have entered the country by deceit, use up citizens' welfare benefits or fail to "simply apply for citizenship."
Dhalla, for example, said her parents moved to San Antonio, Texas, from Canada in 1996 on a visa. However, they lost their immigration status because their lawyer filed their paperwork late.
Tomas Evangelista said his father abandoned his family in Mexico and was brought to America by his mother at the age of 2. When he was six years old, his mother died of cancer. He said he only learned that he was technically undocumented at the age of 15 when trying to get a part-time job to pay for his first cell phone. He eventually went to college and graduated with a degree in kinesiology before starting California Dreamers in Auburn, California.
"When you find out you feel very alone," he said. "Nobody really talks about it because you're afraid to speak out."
Maria Praeli spoke about her arriving from Peru with her family at the age of five to seek medical attention for her 2-year-old sister who was hit by a car and had to have her leg amputated. When her grandmother died in 2013, Praeli said her mother could not attend the funeral back in Peru because she would not have been allowed back into the US.
"She had to watch her mother's funeral through an iPad because of how broken the country's immigration system is," Praeli said. "I'll never forget the screams my mother had. She was hugging the iPad as if she was hugging her mother one last time."
She also urged people watching the broadcast to contact their Congressional representatives and push for quick and permanent reform.
"We're just asking for the opportunity to stay here in the country we love and the country we grew up in and the only country that we know as home," Praeli said. Evangelista added: "All we're asking for is a chance. We're not saying 'give this to us now', we're asking to give us an opportunity to even start."
Zuckerberg emphasised the need for urgency and called on viewers to head to the FWD.us site to learn more about the threat to Dreamers and ways to contact their representatives.
"You are American," Zuckerberg said to the three Dreamers. "Our country is better for having you here. You're what we all want our children and our peers to go do. Work hard, go to college, dream, push a field forward. That's as American as it gets.
"In a time when it can feel like the government doesn't seem like it always has your back, I think it's important you know a lot of people stand with you, and we are going to fight," he continued. "We're going to fight alongside you to get this resolved to get a good outcome for all Dreamers and undocumented folks."