A 16-yearold boy from a family with an "extraordinary history" where two older brothers died fighting in Syria and another brother is still fighting after being wounded there has been barred from following in their footsteps.
The teenager, who like his brothers cannot be identified but who has joint British and Libyan citizenship and comes from the Brighton area, wanted to go to Syria to fight with the Al-Qaeda affiliated al-Nusra Front.
Brighton and Hove local authority social services department had heard the boy's family were preparing for him to travel to Dubai at Easter.
This led the council to raise fears about the boy, whose two brothers died fighting with the group and who also has another brother fighting in Syria, said Barrister Martin Downs on behalf of Brighton and Hove. An uncle was a detainee at Guantanamo Bay and another friend of the boy also died fighting in Syria.
Judge Mr Justice Hayden made the ruling at the Family Division of the High Court today (17 March).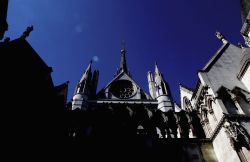 Judge Hayden said: "[The teenager] is a vulnerable young person. He has grown up in modern Britain in an extraordinary family - a family where the male members are patently committed to waging Jihad in war-torn Syria."
Having weighed up the child's human rights, he added, "The balance falls clearly in protecting this young man, ultimately from himself."
The boy's mother is said to be "exhausted by grief" and unable to put proper boundaries in place, and the local authority had considered having him placed in care.
However as he is 16 it was decided making him a ward of court was a better option. This means he is protected by a judge. Mr Justice Hayden said: "A child who is a ward of court may not be removed from England and Wales without the court's permission."
It is believed to be the first time the family division has been asked to ban a young person from travelling to fight in Syria.