Singapore's central bank has shut down a Swiss merchant bank under investigation for money laundering linked to the scandal-hit Malaysian state fund 1MDB.
As well as ordering Falcon Bank to cease operations on Tuesday (11 October), the Money Authority of Singapore (MAS) also fined DBS and UBS banks for breaching anti-money laundering controls.
DBS was fined SGD1m (£593,000, US$730,000) for 10 violations, while UBS was ordered to pay SGD1.3m for 13 violations.
Falcon Bank is the second bank that the regulator has kicked out of the city state, with Swiss bank BSI forced to leave in May 2016 for violations linked to the scandal.
In a statement, the MAS said: "The control lapses observed in DBS and UBS relate to specific bank officers who failed to carry out their duties effectively".
On Monday (10 October) two former BSI bankers were charged with criminal offences linked mostly to the accounts of Malaysian businessman Low Taek Jho.
Better known as Jho Low, he is friends of Riza Aziz, the stepson of Malaysian prime minister Najib Razak, who founded 1MDB. Razak has strongly denied any wrongdoing.
Yak Yew Chee, 57 and Yvonne Seah Yew Foong, 45, were among the six flagged by the MAS to the public prosecutor's office on serious misconduct charges, Channel News Asia reported.
They face seven charges each, three for forgery and four are under the Corruption, Drug Trafficking and Other Serious Crimes (Confiscation of Benefits) Act for failing to disclose information on suspicious transactions.
Lee Teck Leng, representing Yak, confirmed his client was the private banker to Jho Low, as well as 1MDB and related entities, Bloomberg reported. Both accused are out on bail and their pre-trial conference has been set for 24 November.
The AG's Chambers said that others, including BSI Singapore employees, are being questioned as part of its probe into 1Malaysia Development Fund Berhad (1MDB)-related fund flows through Singapore.
The charge sheets claim that Yak had forged three reference letters to BNP Paribas, Switzerland, one to Swiss company Kendris Ltd, and the third to the chief executive officer of Rothschild Trust AG in Switzerland.
Seah is accused of helping Yak in the forgery of the first two letters. She is also accused of helping another former BSI banker, Yeo Jiawei in forging a letter to Citibank. Yeo is also facing charges linked to the 1MDB probe in Singapore.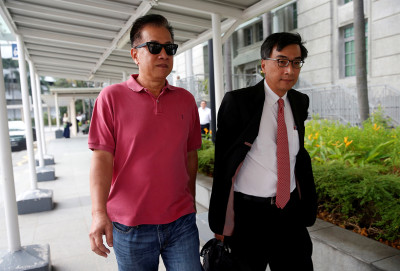 The charge sheet also states that on 20 November 2012, Yak and Seah had reasonable grounds to suspect that the certain sums "directly represented proceeds of an act that may constitute criminal conduct" and failed to disclose this.
The sums related to:
$153m (£124m) transferred from Good Star Ltd to Abu Dhabi Kuwait-Malaysia Investment Corporation;
$153m transferred from Abu Dhabi Kuwait-Malaysia Investment Corporation to Low Hock Peng;
$150m (£121m) transferred from Low Hock Peng to Low Taek Jho; and
$110m (£89m) transferred from Low Taek Jho to Selune Ltd.
According to The Wall Street Journal, Yak earned as much as SGD27m (£15m; $19m) in salary and bonuses between 2011 and 2014, according to court documents relating to a request by Yak for Singapore police to unfreeze some of his assets.