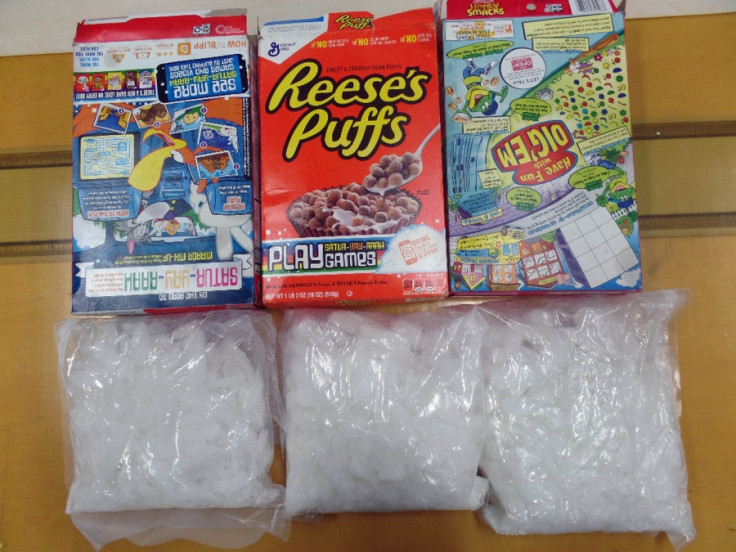 Two American soldiers stationed in South Korea have been accused of smuggling crystal meth worth about $12m (£10m) using the military postal service.
South Korean prosecutors said around nine pounds of the methamphetamine drug was found hidden in cereal boxes. They were seized in December 2016 at Incheon International Airport in Seoul.
Both soldiers, aged 20 and based at Camp Humphreys, have been charged with violation of the narcotics control act, but one of them has been jailed while the other has not been detained, American military newspaper Stars and Stripes reported citing a statement from the Pyeongtaek Branch Prosecutor's Office in South Korea.
They allegedly arranged for the drugs to be shipped from California to an Army Post Office address in South Korea. Prosecutors suspect that they planned to sell the drugs in the country.
According to the statement, the confiscated meth had a street value of 13.6bn South Korean won and could potentially have been used by 130,000 people. The drugs were hidden in the cereal boxes that were part of care packages sent to the soldiers stationed in South Korea, but were identified in baggage X-ray scan at the airport.
The statement also said that the transaction was part of a wider smuggling ring led by someone in Seoul's Gangnam neighbourhood. Police reportedly found more than three ounces of crystal meth and a smaller amount of cocaine in a safe in that neighbourhood.
"It's the largest amount of drugs found coming through the APO [Army Post Office]," senior prosecutor Kang Susanna told the daily in a telephone interview.
Police have also arrested two South Koreans believed to be involved in the case and are searching for four others with relatives in the US.
Prosecutors said the soldier who was not detained is accused of receiving the drugs package at the APO address and giving it to the other soldier who then passed it on to a civilian.