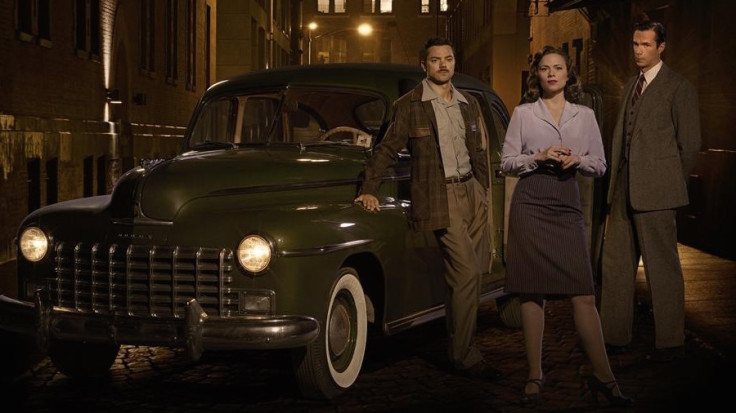 Marvel Studios has released the official synopsis for Agent Carter season 1 finale.
Episode 8 is titled, Valediction, which will air on Tuesday, February 24, 9 pm on the ABC Television Network.
The synopsis reads as follows: "Peggy faces the full fury of Leviathan, as Howard Stark makes his return in the explosive season finale of Marvel's Agent Carter."
Agent Carter's season 1 explored Black Widow's origin and also saw the arrival of the Howling Commandos in episode 5.
James D'Arcy, who plays Edwin Jarvis, teases the finale and dished more on his character's secrets.
He told Zap2it: "There's something that happens with Jarvis where he becomes privy to, or he's let in on, a piece of information which is going to start to shape how the end of the season plays out."
He also added, "It's pretty easy to pinpoint the moment; it comes midway through the episode, and there are plenty of tense undertones to signify its importance. But even knowing that the scene is key to the season finale, don't think your gut response to the information provided is the right one."
Meanwhile, some have expressed doubt about Agent Carter being renewed for season 2.
According to a report in TVbythenumbers, "Agent Carter ratings started reasonably well, but by episode three its ratings had dropped into the range that indicates that it's likely to be canceled."
Its Cancellation Bear gave the show two sad faces, which implies that the show is more likely to be cancelled.
However, ABC entertainment president Paul Lee told reporters, "We feel very optimistic about it," referring to Agent Carter's renewal.
Lee also noted that the January 13th episode had 5.1 million viewers.
Do you think Agent Carter should be renewed for season 2?