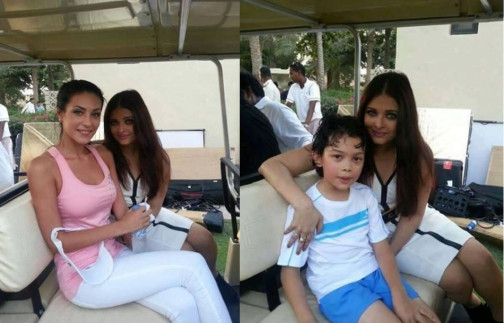 Indian actress Aishwarya Rai Bachchan who is in Dubai for an ad shoot, was spotted posing with fans and models behind the scenes looking absolutely stunning in a short sleeveless black and white Y-dress.
The 39-year-old mother of one is bouncing back to her pre-pregnancy body at a fast pace and her latest pictures reveal that she has lost weight considerably even after her appearance at Cannes Film festival 2013 in May.
In the latest two pictures posted on Twitter by fans, the green eyed beauty with straightened brunette locks and kohl eyes has been caught relaxing while joined by a model friend in one of the pictures and a young fan in another.
Last week itself, Bachchan's style and choice of clothes had made headlines while she was praised extensively by fashion watchers even though she was among the more conservatively dressed at the Royal Ascot Race in London.
The former miss world has been on a tight schedule owing to her work commitments ever since the beginning of the year.
Before being in Dubai for the ad shoot, Bachchan was in London for the Royal Ascot Races, where she had come after attending the Life ball event in the Austrian Capital of Vienna. Bachchan and husband Abhishek Bachchan were also part of the Chime for change concert in London, where they had joined international stars like Beyonce Knowles and Salma Hayek.
Despite her busy schedule, multiple media publications report how Bachchan plays a doting mother for daughter Aaradhya, whom she never leaves alone.
Bachchan was accompanied by mother Vrinda Rai while she was in Cannes for the film festival.
At present, Bachchan has taken a break from her acting career but rumors suggest she will soon be making a comeback.