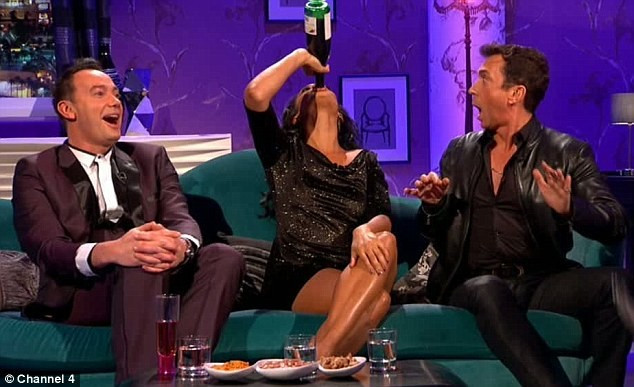 Following Alesha Dixon's boozy appearance on Alan Carr's Chatty Man last night, the International Business Times looked into some of the best soused celebrity moments caught on TV.
Dixon spouted "Everyone's horny!" midway through her interview alongside co-judges, Craig Revel Horwood and Bruno Toniolli, who tried to save the show's reputation.
The show got its first taste of sexual context when Alesha admitted that the girls "really like Harry (Judd)", she then took it a step further by saying "everybody is horny - the year I was a contestant everyone was really gagging for it"
Alesha then proceeded to take long gulps of wine from the bottle itself after Carr offered her a second drink.
Dixon later took to Twitter to apologise for her behaviour although she did admit she had fun: "Apologies for being pickled on Alan Carr! I did have fun though!
"I am officially a light weight and clearly a cheap date!!! :) xxx"
9. Sam Fox got a tad frisky with Steve Farrall who called her a liar after she said she didn't drink following a blatant drunken performance on 'The Club', a reality show where celebrities run a club.
8. Sharon Osbourne who featured as a judge on Simon Cowell's The X Factor back in 2006 had a birthday that happened to land on a night she was supposed to be working. Being the model professional she is, Osbourne turned up to The Xtra Factor looking quite merry.
7. David Hasselhoff must have had a few after filming this TV commercial for an American burger joint. The star can be seen savaging The Hoff Burger which is marketed as a 1/3 pounder burger with all the trimmings
6.Anna Nicole Smith made a right fool of herself in this clip, the star who was barely able to speak after being asked to present a music awards ceremony. Her slurred speech gave her instantly away and even went as far to call Kanye West a genius.
5.Tracey Emin seemingly went on a night out before return to a late night panel show where she essentially told the other guests exactly what she thought of them. After just a few minutes of speahch-slurring idiocies, Emin stormed off stage – probably to return to the club she'd just left.
4. Ben Affleck was interviewed by a French journalist on a Sunday morning and from the word go became very touchy-feely and even going as far as to comment on the firmness of her breasts. Affleck had her sitting on his knee and telling him what kind of bra she was wearing. Interesting stuff, 'fleck.
3. Hardman Oliver Reed was internationally known for his drinking skills, even boasting to have drunk 106 pints on a two day bender. I wonder how many he drank before this performance.
2. James Brown's hilarious interview on American TV after being bailed for firearms and assault allegations by his wife really did tickle us. His constant screaming of his own song's names and obvious drunken ramblings made this one of our funniest clips on the list.
1. Verne Troyer on celebrity Big Brother, who could have asked for more? Troyer did nothing for his image after insulting housemates repeatedly during his stay. Getting extremely drunk and attempting to drive a mobility scooter through the diary room door probably didn't help either.